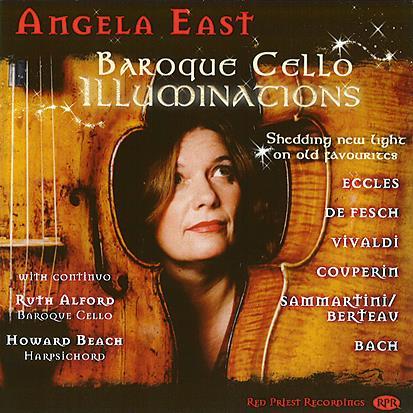 The Strad Issue: January 2009
Musicians: Angela East (cello) Ruth Alford (Baroque cello) Howard Beach (harpsichord)
Composer: Eccles, De Fesch, Vivaldi, Couperin, SamMartinu/Berteau & Bach
Angela East offers an exciting and imaginative showcase for a selection of exam chestnuts, some bypassed in concerts purely because of their pedagogical association. I particularly like the ornamental embellishments on the repeats in the slow movements of the Eccles Sonata, which so artfully depart from the plain melodic line. Equally the continuo harpsichord adds a real percussive bite. Other highlights include dramatic affects in Vivaldi's Sonata op.5, where the icy detached quavers of the Largo recalls 'Winter' from The Four Seasons. Couperin's Pièces en concert are also given full-voltage colour with harmonics in 'La tomba' and a rustic drone in the 'Plainte'. SamMartinu/Berteau's galant Sonata is given bravura treatment, while the final touches of scene-painting come in the Rondo amoroso, which concludes with whistling in the background as the tune fades into the distance.
Despite the somewhat reverberant recording, East successfully spices up these sonatas to tempt and inspire students. Bach's First Suite is less convincing: the deliberate tempo in the Prelude is routine and the accelerando to the climax fizzles out rather curiously. The Allemande suffers from broken melodic delivery, and the Courante emphasises too many of the notes impeding flow. Of course, one man's Bach is another's poison, precisely one of the reasons why it's a high-risk choice for exams.


Joanne Talbot