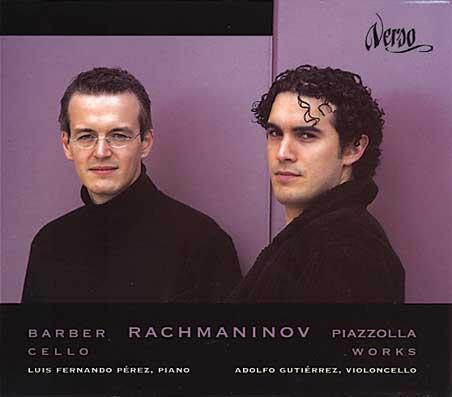 The Strad Issue: November 2014
Description: Inflexibility lets down performances of three highly charged cello works
Musicians: Adolfo Gutiérrez (cello) Luis Fernando Pérez (piano)
Composer: Barber, Rachmaninoff, Piazzolla
Catalogue Number: Verso VRS 2010
United by a loosely based notion of Romanticism as an elevation of expressiveness, these three works nevertheless present quite different approaches to this concept. Most obviously, Piazzolla laces his invention with the hard-edged rhythmic character of tango and urban folk. This intoxicating fusion, served by an ambient recording, is treated to a high-voltage performance, but the drama could have been better crystallised with a wider sense of the intricate possibilities of rubato. There are a few intonation issues in some of the passagework, but most noticeably the final octaves in the cello part require a more cogent sense of line.
Barber's Sonata also, on the surface, appears faithfully served. Yet again a more flexible sense of tempo fluidity and a greater dynamic variety would help to ignite the composer's turbulent lyricism, particularly in th e opening Allegro. Although Barber's writing is full-blooded, the recording balance perhaps over-emphasises the piano at the expense of the cello.
A similar problem surfaces in the Rachmaninoff, where impetus tends to flag, especially in the opening movement. Nevertheless, both players revel in the lyrical melodies, not least in the exquisite and heartfelt Andante, and deliver a vividly characterised account of the scherzo.



Joanne Talbot