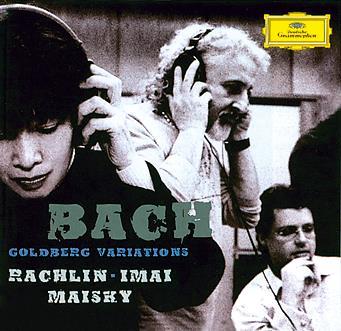 THE STRAD RECOMMENDS
The Strad Issue: January 2007
Musicians: Julian Rachlin (violin) Nobuko Imai (viola) Mischa Maisky (cello)
Composer: Bach
Dmitry Sitkovetsky's transcription of Bach's Goldberg Variations has the immediate advantage of using the differing timbres of three stringed instruments to highlight the themes, harmonies and contrapuntal strands in a way that would not have been possible with the composer's two-manual clavicembalo.
The transcription remains faithful to the intent of the original score while often calling for a taxing display of virtuosity from the players, particularly in the fifth variation, a technical showpiece that darts around the three instruments. The use of strings does, of course, open up the possibility of a wide dynamic range, though these three outstanding musicians use it with discretion.
There is a sense of daring throughout the performance. Tempos are heavily contrasted in mood from serenity to feverish activity and nowhere is this more evident than in the sequence of variations nos.20–22, where the brilliantly realised syncopations move to the glowing meditative canon, and on to the tranquillity of a four-part variation. Equally enjoyable is the gentle lilt the players bring to the dancing measures of many variations and the lute-like use of pizzicato.
Nothing in the staccato quality of the keyboard instruments in Bach's era can equal the long sustaining bass line so splendidly created by Mischa Maisky's cello, though all three players refrain from excessive use of vibrato and have kept the basic sound quite dry. And I have never experienced such a wistful account of the final 'Aria da capo'.
The recorded sound is close and perfectly weighted between the instruments.


DAVID DENTON