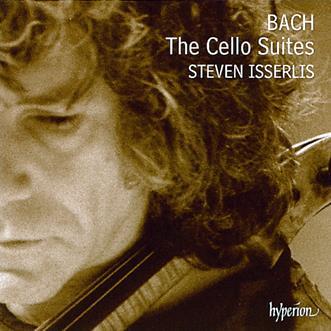 The Strad Issue: January 2007
Musicians: Steven Isserlis (cello)
Composer: Bach, Trad
Steven Isserlis nearly always casts new light on the repertoire he chooses, and these Bach suites are a long-awaited milestone in his career.
There's no question that they are worth the wait – they are fervent, eloquent and unmistakeably his. The dances, full of vitality and enthusiasm, are taken at a lick, while preludes that in other hands can turn ponderously meditative are kept light and full of motion. Isserlis plays the spread chords in the dances with a nice flick of the wrist that gives them an extra kick. Ornaments are restrained – sometimes just a little trill on the last note of the repeat, sometimes more, but never so pleasantly unexpected as the little descending scale in the second Bourée of Suite no.4. A particular idiosyncrasy is the way Isserlis launches into each gigue immediately from the preceding dance, hardly allowing the last chord time to finish and giving a feeling of eager abandon.
I found Isserlis's conception of the suites as 'Mystery Suites', each portraying an event in the life of Christ, compelling. Once I'd read about this, it was hard not to hear the music in this light: the agony of desolation on the Cross in the C minor Sarabande, the joy of the Resurrection in the D major, the coming of the Holy Spirit in the C major and so on – even if the order is puzzling.
The extras on disc 2 shed fascinating light on the problems the extant manuscripts (none of them autograph) pose: the Prelude to Suite no.1 in three different versions, no two agreeing completely even on the notes, let alone the phrasing; and a moving unaccompanied arrangement of the Catalan folksong Song of the Birds, paying tribute to the suites' greatest promoter, Pablo Casals.
The recorded sound feels very true to life: it is closely enough miked for the listener to hear Isserlis's fingers banging down on the fingerboard in the more vigorous dances.
JANET BANKS