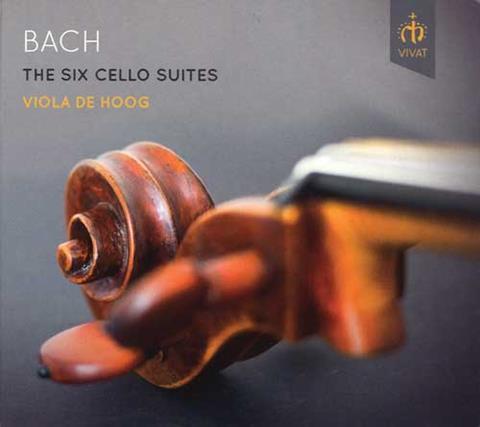 The Strad Issue: January 2015
Description: Refreshingly understated accounts of Bach's suites
Musicians: Viola de Hoog (cello)
Composer: Bach
Versatile Dutch cellist Viola de Hoog offers substantially introverted accounts of Bach's suites. Some characteristics of her mentor, Anner Bylsma, shine through her stylish interpretations, but her fertile musical imagination and detailed, elegant approach make her readings strikingly individual. She employs vibrato selectively and her articulation, phrasing, rhythmic flexibility and appreciation of the underlying harmonic movement enliven much of Bach's music in a manner free from exaggerated gesture and histrionics. However, the tone of her borrowed c.1750 Giovanni Battista Guadagnini at Baroque pitch, though beautifully mellow on the upper strings, often sounds grainy lower down, especially in chordal passages; consequently, one ends up admiring the thinking behind her playing rather than being consistently moved by her performances.
De Hoog's intonation is mostly secure and there is an understated freshness and intimacy to her playing that is especially appealing. She is aptly rhapsodic in the expansive preludes, her allemandes flow gracefully, her courantes are generally light and nimble, her sarabandes are profound and reflective, her gigues are rhythmic and spirited, and her pairs of 'galanteries' are deftly characterised. Most successful overall is the Sixth Suite, performed on a five-string c.1780 Bohemian instrument. Its prelude and gigue positively sparkle, even if its poignant, lyrical Sarabande might have benefited from a more sustained approach.
The close, natural recording occasionally reproduces the clatter of fingers on fingerboard, particularly in the more athletic gigues, but otherwise benefits from the reverberant church acoustic. Unfortunately, one production slip defines the Fifth Suite's tonality incorrectly in the tracking lists.
ROBIN STOWELL