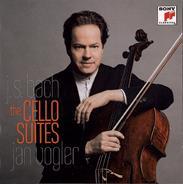 The Strad Issue: January 2013
Description: Mixed results in performances that combine mannerism and eloquence
Musicians: Jan Vogler (cello)
Composer: Bach
Jan Vogler uses a standard four-string set-up for all six of the Bach Cello Suites. His range of tone adds to the power of his performances, infectiously rhythmic in the dance movements but intense in the slow movements. He views each suite as a mood poem and those in tune with his idiosyncrasies will find much to enjoy.
Vogler draws ravishing sounds from his 'Castelbarco–Fau' Stradivari. He shapes most of the preludes with care and rhythmic flexibility, but exaggerated mannerisms occasionally adversely affect both one's appreciation of Bach's insinuated polyphonic dialogue and one's overall feeling for line – sample his fragmented phrasing in the plaintive Prelude of no.2 and the deeply felt Prelude of no.1, the climax of which disappoints. His toccata-like Prelude of no.3 seems too fast for comfort, but he voices the fugue in the French overture of no.5 with intelligence and uses rubato winningly in the Prelude of no.4.
Some of the dance movements likewise seem unduly fragmented, notably the Allemandes of nos.2 and 3, the Courante of no.3 and both Gavottes of no.6. Furthermore, apart from nos.4 and 6, the Gigues lack energy and drive. That said, some figuration in the gigue of no.6 seems scrambled and untidy. Highlights for me include the Sarabandes, especially the intensely solemn examples in nos.3 and 5 and the lyrical no.6, the fast and incisive Courante of no.2, the charming galant Bourrées of nos.3 and 4, and the eloquent Allemande of no.1. The recorded sound gives a warm ambience to the well-focused cello image.
ROBIN STOWELL