The Strad's editor Charlotte Smith introduces the August 2019 issue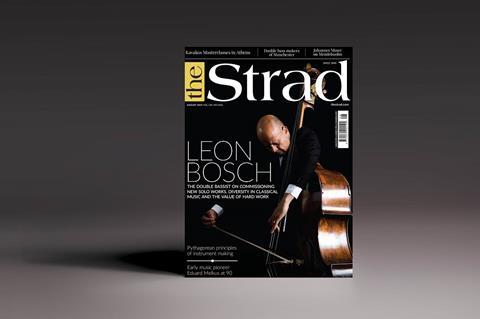 It is self-evident that becoming an accomplished string player requires dedication and drive – but Leon Bosch applies these attributes vigorously, and even compulsively, to all aspects of his musical life. Since immigrating to the UK in his early twenties, the South African-born double bassist has forged an impressive career that belies his humble beginnings. At various times principal bass of the Manchester Camerata, the London Mozart Players and the Academy of St Martin in the Fields, Bosch has concentrated chiefly on expanding his own solo repertoire during the past five years – both in terms of commissioning new works and uncovering forgotten gems. He has also taken up conducting and directing from the bass, a challenge he believes has never before been attempted. But there is more work to be done, as he tells Kimon Daltas on page 28, particularly in encouraging ethnic diversity within classical music and motivating the next generation of young bass players.
Encouraging a new crop of performers is certainly a priority for Leonidas Kavakos, who this year returned to Athens to present his annual Masterclass series for the eighth time. A notable aspect of the violinist's coaching is his emphasis not only on technical skill, but also on 'responsible individuality', as Toby Deller reports on page 40. Showing respect for musical context and our fellow performers allows us to move away from the cult of the individual, which Kavakos believes has seeped into the musical world to its detriment.
Elsewhere in the issue François Denis investigates the founding principles of violin design. Legend has it that the Greek philosopher Pythagoras was the first person to note the relationship between whole number ratios and balanced musical harmony. Previously unknown, though, is that his system of measurement greatly influenced the proportions of the first Baroque stringed instruments. Read Denis's fascinating findings on page 46.
Charlotte Smith editor
Email me at thestrad@thestrad.com or tweet @TheStradMag