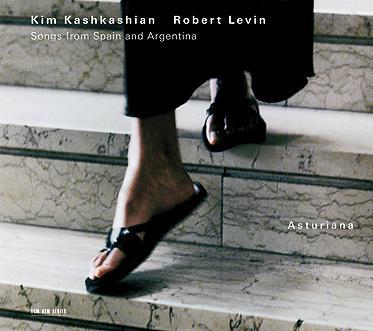 The Strad Issue: January 2007
Musicians: Kim Kashkashian (viola) Robert Levin (piano)
Composer: Falla, Granados, Guastavino, Ginastera, Montsalvatge and López Buchardo
Having grown up in Argentina, I have known these songs since childhood, and later played the odd one on the viola as well. I don't have anything against transcriptions per se (rather the contrary), but my problem when listening to this CD is that I know the songs too well, and keep missing the words.
These arrangements were tried out by the players in many performances, and on their own terms work very well. The viola sometimes takes over material from the piano, and effective passages of double stops are included. Some songs work better than others: I was much taken with Guastavino's La rosa y el sauce (I seem to remember that the composer authorised a violin version) and Ginastera's Triste (ditto a cello version by Pierre Fournier). Falla's Canciones populares are often performed in Pawel Kocha´nski's violin arrangement, upon which the present one is based. All these songs are an inexhaustible treasure trove of tunefulness, and both players revel on it.
Kim Kashkashian's breadth of tonal colouring is as amazing as ever, an occasional 'woodiness' of tone sounding perfectly appropriate for Falla's Andalusian exhuberance. Montsalvatge's Canciones negras lose out without the surrealist wit of Alberti's and Guillén's poetry. Granados's Majas – alternatively sorrowful and coquettish – suit the viola's voice better. Kashkashian's consistently expressive phrasing suggests in a couple of places that she isn't thinking of the songs' words but seeing the melodic line abstractly (the evocatively illustrated booklet quotes Arnold Schoenberg advocating exactly that). This highly enjoyable CD should win many friends for some composers who are less well known than they should be.
Carlos María Solare