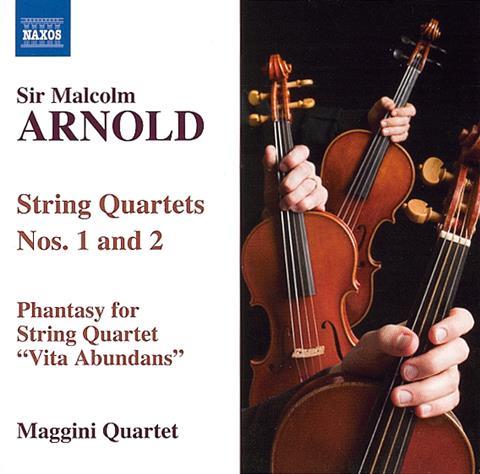 THE STRAD RECOMMENDS
The Strad Issue: January 2007
Musicians: Maggini Quartet
Composer: Arnold
Malcolm Arnold remains a musical enigma; he was never seemingly sure whether he was looking for popularity or craving acceptance as a serious composer. Nowhere is that more in evidence than the two numbered quartets, which was composed at very different points of his life and stylistically have the shadow of Bartók ever present.
The music's unexpected mood swings can pose problems for the performers, though the players of the Maggini Quartet take them very much in their stride. In the pungent atmosphere that pervades the opening of the First Quartet from 1949 their impeccable weighting between instruments unravels the texture into lucid strands. The Scherzo is full of virtuoso zest, while the quartet's care over varying levels of pianissimo shades an introverted slow movement. The music returns to a more atonal style in a finale where a sense of resignation takes over.
Twenty-six years later nothing much had changed: the Second Quartet is equally full of mood swings, with the hard-hitting opening Allegro suddenly giving way to a tune straight from an Arnold 'pop' classic. The Scherzo is a Celtic jig demonstrating the brilliance of the Maggini's since departed violinist, Laurence Jackson, while the work's later feel of despondency highlights the quartet's outstanding violist, MartinuOutram.
The Phantasy for String Quartet was an entry for a 1941 London chamber music competition, for which Arnold reused the likeable material for his Wind Quintet. Rather lightweight and derivative of other composers, it is a skilfully constructed single-movement piece.
The Maggini is colonising British string quartets, and offering seldom-played works at Naxos's budget price. This superbly recorded disc once again places us in its debt.
DAVID DENTON