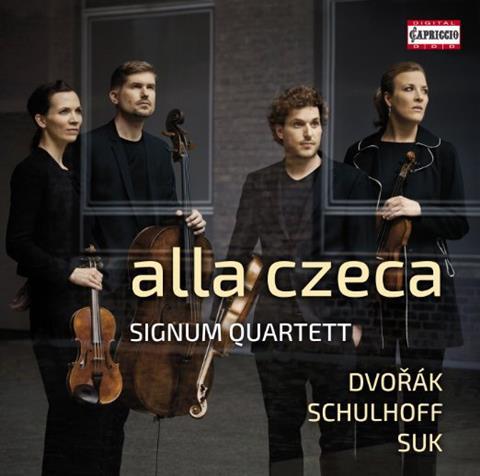 The Strad Issue: January 2016
Description: Infectious performances of three Czech works for string quartet
Musicians: Signum Quartet
Composer: Dvorák, Schulhoff, Suk
The Signum Quartet has a penchant for themed programmes on its CDs, and this well-planned and sensitively recorded (if concise) recital of under an hour's music surveys three decades of Czech quartet-writing in reverse chronology.
The players bring out the Bartókian immediacy of Schulhoff's Five Pieces, essentially a 1920s take on the Baroque dance suite, with a Viennese waltz (in 4/4 time), a tango and so on replacing the Bachian originals (the 'Alla czeca' gives the disc its title); it culminates in
a hell-for-leather tarantella, which is the highlight of a performance full of crisp, urgent rhythms and textural subtlety. The six minutes of Suk's Meditation, written as war broke out in 1914, provide a sombre counterfoil, played with warmth and pathos.
And so to one of the most joyous of Dvorák's quartets, the G major work in whose premiere Suk had played second fiddle. It has its darker moments, of course, but the overriding sense, as enthusiastically conveyed here, is of almost carefree, bucolic charm. The Signum's playing is both clean in its clarity of ensemble and interpretatively full of freshness and life, and its ebullience of spirit in the exhilarating finale is infectious.
MATTHEW RYE