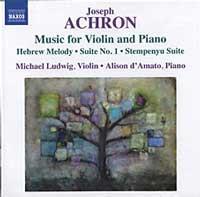 The Strad Issue: January 2012
Description: Rewarding exploration of the music of a neglected Russian violinist–composer
Musicians: Hagai Shaham (violin) Arnon Erez (piano)
Composer: Achron
Leaving his native Russia after graduating from the class of the legendary Leopold Auer at the St Petersburg Academy, Joseph Achron (1886–1943) settled in Berlin and launched a career that placed him among the great violinists of his time. He was also a prolific composer who moved with the changing styles of the early 20th century, but never left the world of tonality. His first three suites, completed in his early twenties, open in homage to the Baroque era, proceed to outgoing virtuosity and close with four 'tableaux fantastiques' that recall Impressionism. Dating from ten years later, in 1916, the Fourth Suite, subtitled 'Suite bizarre', is close to the world of Bartók, while the later Children's Suite, cast as eight cameos of young innocence, is fashioned in the style of Stravinsky.
If much of the remainder of the two discs can be conveniently gathered together as salon pieces, they are all beautifully crafted scores, many influenced by Hebrew folk melody. Hagai Shaham's performances are strong, agile and technically impressive throughout, and his intense vibrato adds much to the soulful quality that characterises Hebrew melody. This perfectly weighted duo has an outstanding pianist in Arnon Erez, and Achron's writing takes him way beyond a passive accompaniment. Most of the salon tracks have previously appeared on Biddulph Recordings, and the addition of the suites makes two well-recorded and generously filled that are available for the price of one.



DAVID DENTON