A new addition to an established line of shoulder rests designed to offer more players a perfect fit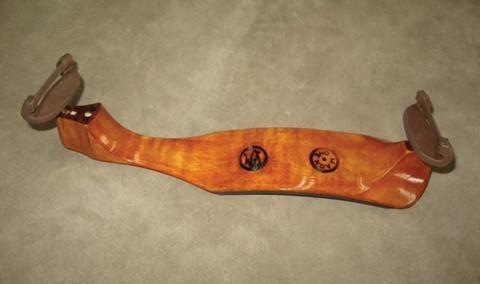 From his workshop close to Ottawa, luthier Peter Mach makes violins, violas and cellos as well as clamps, callipers and a special tool that cuts wood into strips for purfling. Since 1997 he has also been carving a line of fixed-position shoulder rests he intends to be so comfortable that the player forgets they are using a rest at all. Some manufacturers attempt this by creating rests that are as small and unobtrusive as possible. Mach's Mach One rests, on the other hand, have been designed to distribute the weight of the instrument across more of the shoulder, reducing the pressure at any single point. His new extra-wide straight shoulder rest develops this idea and offers an alternative for players for whom his standard S-shape and straight rests were not a good fit.
'I have a box full of different shapes,' Mach explains. 'This new 43mm-wide straight form had been sitting in there for years when I decided it was time to make something for people whose shoulders didn't quite match the previous models.' Although Mach also makes bespoke shoulder rests, these can be prohibitively costly for some players. 'Between them, these standard models should fit pretty much every shoulder on earth,' he says. 'At least, that's the idea!' Some players, Mach states, have noticed an improvement in their sound since switching to the rest, which he puts down to the fact they are carved from maple. 'The wood has to be strong but also light and flexible,' he explains. 'Tropical hardwoods are too stiff. The wood for my rests needs enough flexibility to fit the contours of any instrument and enough tensile strength to support a slim construction. Maple offers both of these characteristics.' All Mach One rests come with suede leather padding and 20mm-long feet to fit its 20mm-deep holes. Feet measuring 35mm are also available for players with longer necks.
Mach One 43mm-wide violin shoulder rest from £56
email petermach@bell.net