Violin and cello rosins demanding a modified recipe and method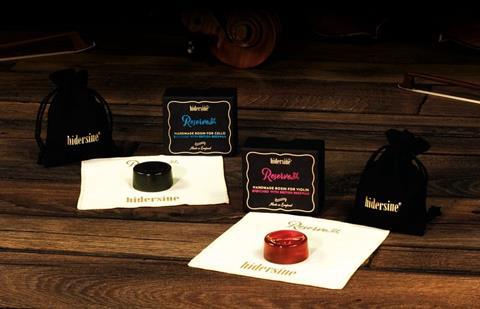 By incorporating beeswax, we have created a rosin with the best balance of grip and slip that we have ever made,' says Alex Mew, marketing director of UK accessories manufacturer Hidersine. The company's newly released Reserve21 for violin and cello is the first in its range to include British beeswax, in combination with Brazilian resins. 'We tried many different suppliers and finally settled on a British beekeeper,' says Mew. 'We found that the quality was far superior.' The beeswax also acts as a substitute for the harmful petrochemicals sometimes used in other types of rosin and gives the rosin its 'slipping' quality. The 'grip' side of the equation, says Mew, was determined by the amount of resin used. To find the ideal balance between the two, Hidersine's employees experimented with various beeswax-to-resin ratios.
Reserve21 is hand-blended and melted down using an indirect heat source, to 'reduce oxidisation in the rosin mixture and retain its purity and clarity', explains Mew. 'We're very proud of that.' As a result, he says, the rosin should perform more consistently than some others, because its ingredients are dispersed evenly throughout the cake. The rosin also produces less dust than Hidersine's other formulas, which Mew says is 'a big benefit'.
Two types of Reserve21 rosin are available: one is light and medium-hard, for violin; the other is dark, with a medium consistency and high grip, for cello. Hidersine has developed both formulas with the aim of giving a 'warmth to the instrument's tone', says Mew. He adds that although a viola-specific version of Reserve21 is not currently available, the company has 'tested the violin rosin on viola, and it performed well.' The boxed 30g rosin cakes come wrapped in cloth inside a velvet drawstring bag.
Hidersine Reserve21 violin and cello rosin £19.95
email sales@bandm.co.uk