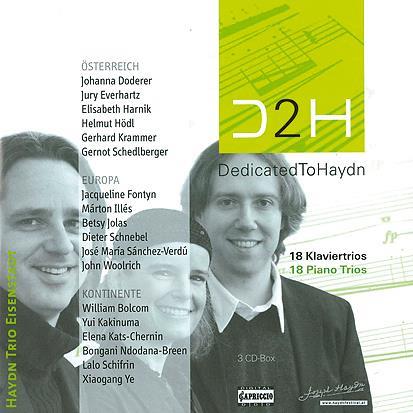 The Strad Issue: January 2009
Musicians: Haydn Trio Eisenstadt
Composer: Krammer, Woolrich, Xiaogang Ye, Doderer, Ndodana-Breen, Sánchez-Verdú, Bolcom, Everhartz, Kakinuma, Fontyn, Hödl, Illés, Schifrin, Schnebel, Schedlberger, Kats-Chernin, Jolas & Harnik
To mark this year's bicentenary of Haydn's death, the Haydn Festival Eisenstadt commissioned 18 composers to write a piano trio each to honour the great master. The results, as varied as they are interesting, range from the tonal homage in William Bolcom's HAYDN GO SEEK to the intriguing sounds of José María Sánchez-Verdú's HEKKAN II, where the unconventional use of instruments is taken to the point where you cannot always tell which is involved.
Most are single movements, but two composers, Jury Everhartz in Haydntrio and Jacqueline Fontyn's Lieber Joseph!, have followed Haydn's typical three-movement format in highly attractive atonal scores. Particularly rewarding are The Night will not draw on by John Woolrich and Yui Kakinuma's KAGETSU – Etude on the name of Haydn, where tonality and atonality flirt with one another.
Equally inventive is the Argentinean Lalo Schifrin, who uses material from a Haydn piano sonata and takes it through the many styles since the master's death. The release is aptly concluded with Elisabeth Harnik's look into the future with schatten.risse.
From the over-obvious fun of Dieter Schnebel's Haydn-Destillate to the Chinese-inspired Piano Trio op.59 of Xiaogang Ye, the Haydn Trio Eisenstadt tackles the many differing styles with total commitment. Although it has obviously been a marathon project for the players, every technical challenge (and many of the works are packed full of them) have been fully resolved and persuasively handled. The balance between instruments is so open that it yields much inner detail, and when outgoing virtuosity is needed it is supplied in abundance. The strings are creamily smooth or pungently aggressive as required and the piano never obtrusive. In this the players are supported by outstanding recorded sound.
David Denton