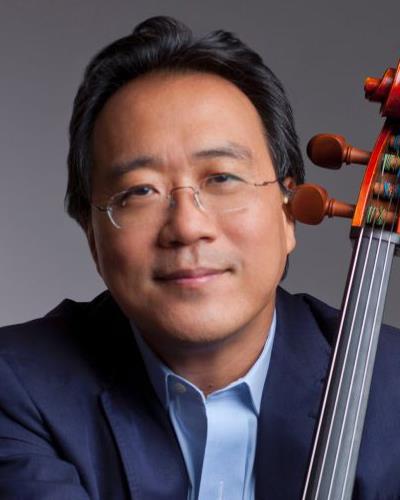 The cellist and arts education campaigner Yo-Yo Ma played a leading role in Arts Advocacy Day in the US on Monday. The highlight of the day, which was sponsored by Americans for the Arts, the national arts advocacy organisation, was a lecture given by Ma in Washington DC's Kennedy Center concert hall.
Ma's talk was entitled 'Art for Life's Sake: A Roadmap from One Citizen Musician' (see here for a full transcript, and here for a video of the lecture). He spoke about his education work with the Chicago Symphony Orchestra, the President's Committee on Arts and the Humanities, and the Silk Road Ensemble. The lecture was punctuated with live music, as Ma performed Saint-Saëns's 'The Swan' with jookin' dancer Lil' Buck and Galician piper and pianist Cristina Pato, and Levon Helm's 'Wide River to Cross' with injured veterans from the Musicorps programme.
During his speech, Ma paid tribute to his 'hero', Pablo Casals, and recalled Casals's epigram, 'I am a human being first, a musician second, and a cellist third.' Before ending the lecture with a solo performance of a Bach Sarabande, Ma summarised his three big ideas for the audience to take away:
– Societies are powered by three engines: politics, economics and culture. A vibrant society exists when all three engines are firing and intersecting resulting in a populace that is energised, engaged and fulfilled.
– Our collective work in the arts is not just relevant but essential to strengthening our culture and positively influencing society. Thus 'Art for Life's Sake'.
– The arts are the way to foster the four critical skills necessary for our children to succeed in the 21st century workforce: collaboration, flexibility, imagination, innovation.
The next morning, Ma joined former Guns N' Roses drummer Matt Sorum on Capitol Hill to urge Congress to increase funding for the arts. In the face of calls from senior Republicans to abolish both the National Endowment for the Arts and the National Endowment for the Humanities, the Americans for the Arts organisation wants to see funding for each agency restored to $155m. Last year, both endowments received $146m, but lost $7m of that when automatic government spending cuts kicked in this March.
photo: Todd Rosenberg