Cellist and folk-music friends in a delightful, genre-bending second album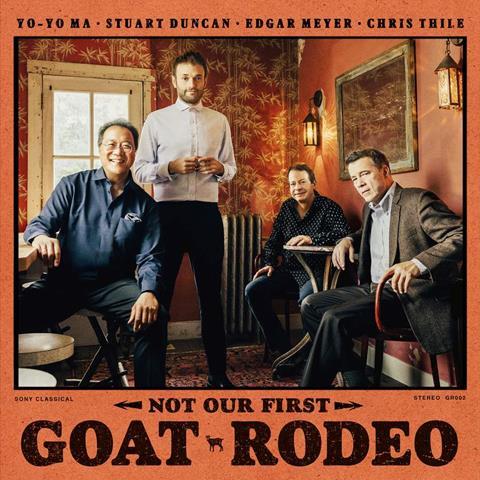 The Strad Issue: September 2020
Description: Cellist and folk-music friends in a delightful, genre-bending second album
Musicians: Yo-Yo Ma (cello) Stuart Duncan (fiddle, banjo) Edgar Meyer (double bass) Chris Thile (mandolin, guitar, vocal) Aoife O'Donovan (vocal)
Catalogue Number SONY 19439738552
After the Grammy-winning Goat Rodeo Sessions of 2011, the dream team of Yo-Yo Ma, mandolinist Chris Thile, bassist Edgar Meyer and fiddle player Stuart Duncan return with Not Our First Goat Rodeo, with Aoife O'Donovan joining them once again on vocals.
The title apparently refers to a term used in the aviation world to describe a high-risk situation – an apt styling for an eclectic mix of songs and instrumental pieces that's hard to pigeonhole. The tracks apparently grew out of improvisations. Deep-felt echoes of bluegrass abound, as you might expect given the provenance of the three players apart from Ma, but there's a further undertow of intricacy that's hard to define.
There's certainly a lot packed into these short pieces. In Waltz Whitman, fiddle and cello vie for prominence with their own separate themes – Ma expounding a soaring cello melody over wild and insistent rhythms, which melts away into a more straightforward waltz theme from the fiddle.
Shades of Thile's band, Punch Brothers, colour the gorgeous and desolate song The Trappings, with layers of harmonies over driving strings. Lilting melodies sway in the delicious Voilá, where Edgar Meyer's scampering phrases add to all the merriment.
What the players layer on in complexity, they match in sheer joyfulness of expression, and throughout the detail of the recorded sound is entrancing. High-risk? Yes, but this second outing sees them riding off into the sunset with heads held high.
CATHERINE NELSON