Violin maker's shop stock and collection of instruments and bows said to be worth around $1m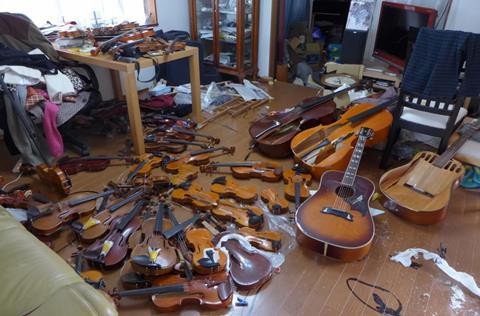 A woman accused of a rampage through her husband's violin collection in 2014 was finally arrested on 25 July this year, Japanese press has reported.
The alleged victim, Daniel Olsen Chen, 62, a Norwegian national living and working in Japan, is a former violinist who maintained a making and repairing workshop in Nagoya. He posted a video of the destruction on his YouTube channel, AV Daniel Violin, and has claimed that in total 54 instruments and 70 bows were damaged, including his own Amati, the value of which he places around 50m yen ($450,000).
In YouTube comments, Chen has claimed that the break-in occurred after a serious car accident confined him to hospital, although elsewhere it has been reported that he was on a business trip. He also claims that, along with the destruction, a number of valuable items were removed.
His former wife, 34, is reported to have been arrested on her return to Japan from China.
The video of the aftermath of the alleged crime is below: