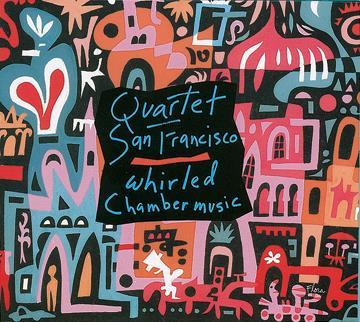 The Strad Issue: January 2008
Musicians: Quartet San Francisco
Composer: Various
Having showcased their tango expertise in Látigo (2006), the players of Quartet San Francisco (QSF) continue in a popular vein here, turning their attention to jazz, funk, blues and Bluegrass, while celebrating the centenary of Raymond Scott's birth by including several of his snappy, cartoon-esque tunes.
Violinist Jeremy Cohen has arranged most of the music, casting his net admirably wide and reworking his catch idiomatically without venturing far beyond the scope of the originals. There are 18 tracks on the album, so there is room for a few less successful corners: in the funk tunes especially, the melodic articulation, phrase endings or simply the overall sound occasionally seem too obviously designed for different instruments.
Nevertheless, the majority of this medley of American music scores highly, not least because of the readiness of Cohen's colleagues to throw themselves into every style. This group can both swing and groove, as the stylish stab chords of I Hear Music and the tight, three-part flurries of Spain demonstrate; Scott is given a rousing reprise as the players communicate his energetic and at times slapstick humour, exemplified by the tricky stop-start syncopation of the fairground-like 'Boy Scout in Switzerland'. Each player justifies his or her individual moment in the limelight, whether in Emily Onderdonk's swinging viola solo of I Hear Music, the sepia-tinted nostalgia of Kayo Miki's second violin in Peter Tambourine, or the nocturnal mystery of cellist Joel Cohen's pizzicato in The Mooche that prefaces the loose, and louche blues playing of his brother. Despite the odd disappointment, this album shows that QSF remains highly accomplished at exploring and expanding the popular end of the string quartet repertoire.
Chris Elcombe