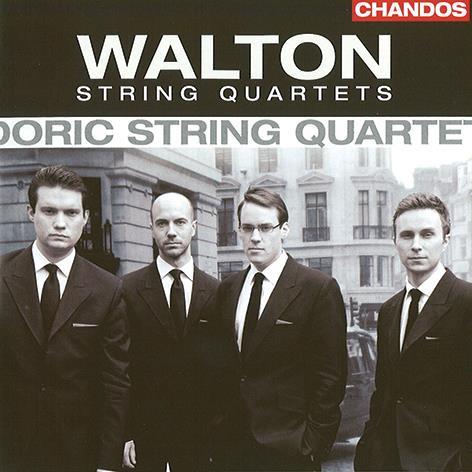 The Strad Issue: January 2011
Description: A welcome coupling of the English composer's two contrasting quartets
Musicians: Doric Quartet
Composer: Walton
It's hard to believe that these two string quartets are by the same composer. The earlier work, a remarkably assured undergraduate 'essay', matches Walton's own description of 'undigested Bartók and Schoenberg' and culminates in a fugal finale that apes Beethoven's Grosse Fuge. The score was withdrawn after a handful of performances, for which Walton had made various cuts, and resurfaced after his death. This is its first recording in the newly restored full-length version and the members of the Doric Quartet play it as if it has been in their repertoire for years. They bring out the Bartókian textural extremes and are particularly successful in maintaining the momentum through the long fugue, by far the most memorable movement of the work.
The more familiar A minor Quartet, written in the mid-40s, is by contrast echt Walton, from the teetering impetus of its scherzo to the plangency of its slow movement. The Doric players revel in the music's virility – the Scherzo powers along like a less malicious twin of that from the First Symphony. On the other hand, they also respond sympathetically to the music's lyricism, with Simon Tandree's sensitively shaped viola lines to the fore in the Lento. The Potten Hall recording is first rate.



Matthew Rye