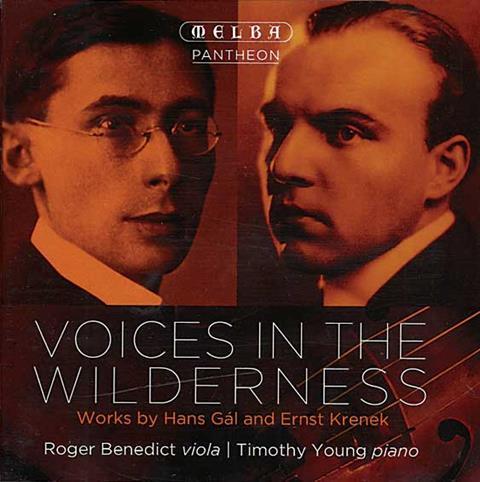 The Strad Issue: February 2015
Description: Rare viola repertoire from two mid-20th-century exiles
Musicians: Roger Benedict (viola) Timothy Young (piano)
Composer: Gal, Krenek
This recording brings together the music of two Viennese composers who shared the fate of having to flee central Europe as the Nazis rose to power. Hans Gál will be remembered by British readers 'of a certain age', because he settled in Edinburgh and lived there until his death in 1987. Ernst Krenek became part of the large Californian mid-European community – a fascinating bunch that included Alma Mahler, Thomas Mann, Bruno Walter and Arnold Schoenberg – and died in Palm Springs in 1991. All the works on this CD were written in the 1940s, when both composers were trying to find their bearings in a new home.
Gál's music is written in a gently lyric vein that reflects his spiritual connection with Brahms. The Viola Sonata is a charmer, with a flowing first movement that returns to round up proceedings con sordino after a waltz-like intermezzo and a marching finale. The Suite is of comparable characteristics but on a slightly smaller scale, and the Impromptu is a rather melodious morsel. Krenek's music, indebted to Schoenberg's twelve-tone technique, is harder-edged and perhaps less immediately accessible but definitely repays closer study.
Roger Benedict makes a convincing case for this rare repertoire, which he plays with an ideal mix of intellectual acumen and seductively sensual tone, in close rapport with Timothy Young. The CD is beautifully recorded in the friendly acoustic of South Melbourne Town Hall (home of the Australian National Academy of Music).
CARLOS MARÁA SOLARE