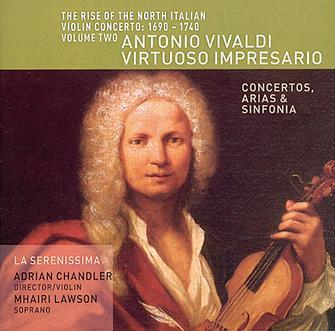 The Strad Issue: January 2007
Musicians: Adrian Chandler (violin/director) Sarah McMahon (cello) Gareth Deats (cello) Mhairi Lawson (soprano) La Serenissima
Composer: Vivaldi
This second volume of La Serenissima's series tracking the rise of the North Italian violin concerto from 1690 to 1740 features a mixture of concerto types by Vivaldi as well as five soprano arias, performed with style and virtuosity.
Adrian Chandler is tested in many different ways in the solo concertos but overcomes their challenges and passes with flying colours. He negotiates the fast passagework of the B flat major Concerto RV370 with striking rhythmic assurance, fantasy and panache and includes in the finale his own stylish cadenza, based firmly on Vivaldian models. He copes admirably without using his E string in the Concerto 'senza cantin' RV243, draws a beautiful, embellished cantabile in the slow movement and adopts the prescribed scordatura for the energetic finale's timbral pedal-point effects. He returns to the high registers of the E string in the first movement of RV254, demonstrating commendable accuracy, and employs a wide variety of bow strokes in the finale, often involving rapid articulations, neatly executed. He shapes the line tastefully in the melancholy, aria-like Largo.
Chandler is the predominant voice in the Triple Concerto RV561, particularly in the Largo; where his sensitively embellished melody is accompanied arpeggiando by the two solo cellists, who only display their true solo colours in the lively outer movements. RV134 is for string orchestra and includes a well-worked fugue, energetically conveyed.
Mhairi Lawson treats us to a world premiere recording of three arias, including the breathtakingly virtuosic 'Alma oppressa'. The recording leaves little to be desired.
ROBIN STOWELL