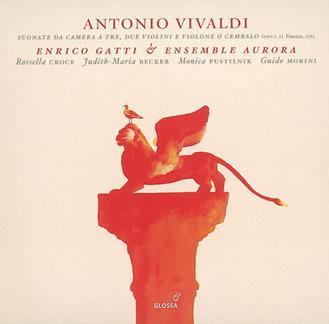 The Strad Issue: January 2008
Musicians: Enrico Gatti (violin) Rossella Croce (violin) Judith-Maria Becker (cello) Monica Pustilnik (archlute) Guido Morini (harpsichord/organ)
Composer: Vivaldi
This double disc is pure delight from start to finish, and surely a collector's edition. Twelve sonatas from Vivaldi's op.1 might sound like an onerous offering, attended by inevitable longueurs. Far from it. By 1703 Vivaldi had attained a level of musical artistry that, matched by his extraordinary sensibility, would make one assume these, including the wonderfully dynamic La Folia variations (no.12), were written in his later years.
All of his most refined qualities are evident in these wonderfully buoyant readings. Enrico Gatti's direct, ornament-free yet somehow fragrant tone (he plays a Matteo Albani, made in Bolzano in 1673), alongside his lightness of touch throughout, is ideally matched by the four ensemble players (including fellow violinist Rossella Croce, on a modern Guarneri copy by Franco Simeoni of Treviso), as if all five were playing on the same instrument. Alternations between organ and harpsichord add variety.
Gatti's feeling for Vivaldi's longer paragraphs is masterly, and he displays a wonderful gift for skirting all slavish overemphasis of immaterial passing notes. His pacings constantly permit the music to breathe. Any rubato is beautifully relaxed, so that a straightforward melodic line can acquire a confidential inner subtlety.
There are wonderful moments where little filigree patterns well up from Judith-Maria Becker's cello (a German instrument of the period), with Monica Pustilnik's archlute in faithful attendance, assisting rhythmic security. Brilliantly, lightly executed gigues, delicate as gossamer, enliven five of the sonatas (nos.2 and 8 offer two fabulous examples). The disc is beautifully produced and exquisitely sleeved, and the recorded sound could be scarcely bettered.
Roderic Dunnett