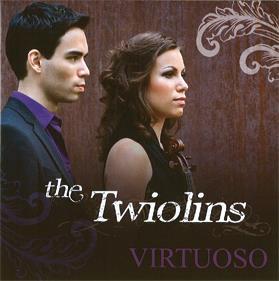 The Strad Issue: January 2012
Description: A violin duo that is attempting to expand the repertoire with crossover
Musicians: The Twiolins
Composer: Brydern, Igudesman, Nicolau, Taylor, Ternes, Nowicka & Mader
In 2009 the Twiolins, formed by the violin-playing Dingler siblings Marie-Luise and Christoph, launched a competition to add to the violin duo repertoire. The first Crossover Competition Award was held in 2009 (the second takes place this year), and this CD is a showcase for the winning entries. As such, it doesn't constitute a particularly balanced programme, but that isn't the point. The winners were all chosen by the audience, which seems to have had a soft spot for pieces with motoric accompaniments and free-wheeling melodies.
This was true of the first prize winner, Benedikt Brydern's Autobahn, which also had some busy pizzicato along the way, and a false ending thrown in. Like a lot of these works it requires an (apparently) effortless virtuosity and vivid musical personality, both of which are amply supplied by the Twiolins. They bring appropriate style to the jazzy central section of Aleksey Igudesman's Peesh moosh, and earthy Bartókian vitality to Hollis Taylor's two works, redolent of Eastern-European dance.
Had I been the audience, Teodor Nicolau would have won with his Fairy Tale, a true duo of equals telling a splendidly spooky tale with a broad palette of colours. It is well played and well worth playing. The recorded sound is forward and vivid.


TIM HOMFRAY