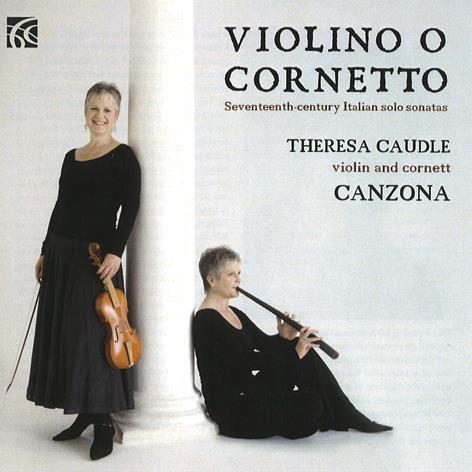 The Strad Issue: January 2011
Musicians: Theresa Caudle (violin/cornett) Canzona
Composer: Various
Theresa Caudle's 'musical journey through the 17th century' charts the evolution and progress of the solo sonata in Italy and the development of idiomatic writing for the violin. During its course, she demonstrates the vocal and expressive qualities of both the violin and the cornett, contrasting these instruments' attributes in two rhapsodic, virtuoso sonatas by Giovanni Paolo Cima and two of Frescobaldi's canzonas ('La Lucchesina' and 'La Bernadina'), both of which are characterised by the diversity of their 'movements' and striking echo effects.
Caudle's cornett performances of Fontana's Sonata Prima, Cazzati's Sonata Prima op.55 ('La Pellicana') and Marini's Sonata op.22 show these works in a very different light, but she reverts to the violin for sonatas by Marini, Castello and Uccellini, and two sinfonias by Stradella. She performs the fast sections of these works with great verve and the slower, more reflective ones with affecting expression. Perfectly attuned to the sensibility of the period, she adorns them with copious stylish embellishments, none more so than Corelli's Sonata op.5 no.5, eloquently dispatched. A respectfully resonant church recording assists the cause, along with the alert accompaniments of varied continuo ensembles made up from Mark Caudle (bass violin/cello), David Miller (chitarrone) and Alastair Ross (organ/harpsichord).


ROBIN STOWELL