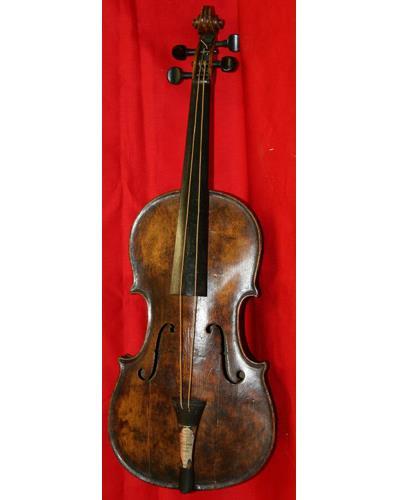 A violin that belonged to Wallace Hartley, bandmaster on the ill-fated maiden voyage of the RMS Titanic, is to go on display in Belfast City Hall at the end of March. According to specialist Titanic auctioneers Henry Aldridge & Son, the water-damaged instrument is the one played by the violinist as the ship went down: according to legend, Hartley played the hymn 'Nearer My God to Thee' as passengers were being loaded into the lifeboats.

The violin has been examined by Bath-based dealer Andrew Hooker, who estimated its date as between 1880 and 1900. Based on a Maggini model, it was probably made in a German factory, possibly in Markneukirchen or Klingenthal. It has a spruce front and maple back. No maker's label has survived, although the violin bears a silver plate on the tailpiece, with the inscription: 'For Wallace on the occasion of our engagement from Maria.'

The data corresponds with the known facts about the Titanic violin, which was given to Hartley by his fiancée, Maria Robinson, in 1910. Supporting the theory that the violins are the same is the transcript in Robinson's diary of a telegram dated 19 July 1912, three months after the sinking. Addressed to the Provincial Secretary of Nova Scotia, it reads 'I would be most grateful if you could convey my heartfelt thanks to all who have made possible the return of my late fiancé's violin.' According to auctioneer Andrew Aldridge, 'Wallace Hartley's body was recovered on 25 April, and the violin and valise would have been in Halifax, Nova Scotia, until their return to Maria Robinson.'

The evidence unearthed by the group appears to show that Hartley put the violin inside a leather valise, which he then strapped to his body before the ship sank. The monogrammed valise, still containing the violin, was discovered by Robinson's sister upon her death in 1939. Since then it has been in the hands of a succession of private owners, before being brought to the auctioneers' attention.