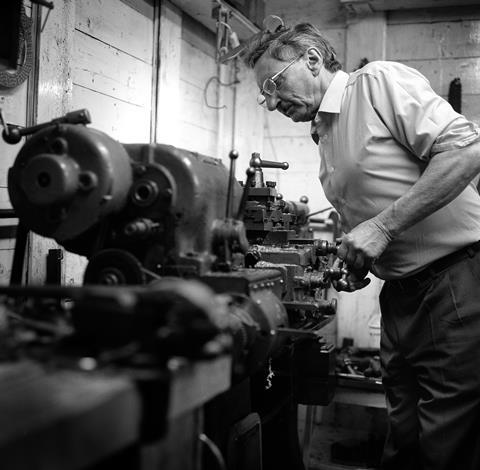 Brian Hart, an industrial toolmaker who found success creating bespoke clamps and implements for violin makers, has died at the age of 77. Hart started his career making tools for engineering components but later switched to creating devices for stringed instrument, becoming known as a clamping guru for his range of intricate handmade clamps.
In an interview published in the October 2008 issue of The Strad when he was 72, Hart explained how a chance encounter in a Welsh pub brought him to the attention of violin maker Malcolm Siddall, which in turn brought him to his new calling:
'Malcolm said it was always difficult closing a crack in the f-hole. He wished he had a clamp that wouldn't damage the point on the violin, because a crack usually occurs opposite the corner, right in the wing of the f-hole. So I came up with the wing-crack clamp.'
The new clamp was an instant success and soon Hart was making and selling a full range of implements via the violin dealership J.&A. Beare – all made in his garden-shed workshop.
Maker and restorer Shem Mackey, a longtime friend who shared a London workshop with Hart's son Stephen, remembers encouraging Hart's early efforts: 'I gave him some of my violin tools to copy and he went on to become the best toolmaker we have known. He was a great character and a true intuitive genius at his trade. He had a sense of the aesthetic. His very lateral approach to the problems of violin repair produced some truly brilliant tools.'
Hart described making violin tools as a liberating experience and put the secret of his success down to personalisation: 'They know they will get something special, that's just right for them,' he said.
With no protégé to pass his knowledge on to, Hart's legacy will remain in the tools he made. 'I'm not going to be passing it on,' he said. 'I guess when I curl up, it'll be end of story.'
He is survived by his two children, Stephen and Anne.
Photo: Sarah Caplan
Subscribe to The Strad or download our digital edition as part of a 30-day free trial.