Tully Potter pays tribute to a violist who influenced a generation of British players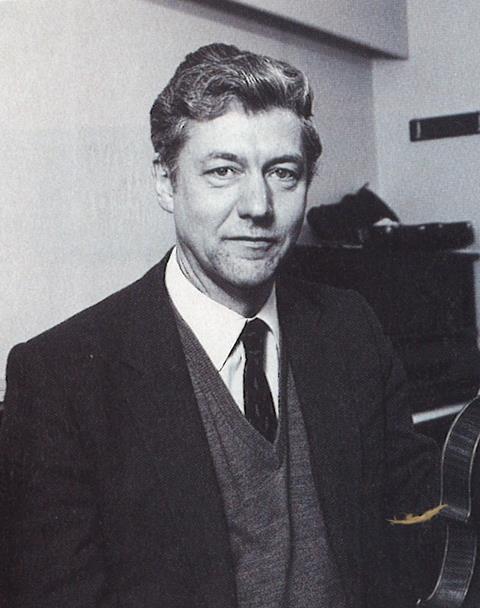 John White, founder violist of the Alberni Quartet, longtime professor of viola at the Royal Academy of Music and a leading personality of the viola world, died on 1 December at St Clare's Hospice near Harlow, Essex. He had been ill for some time.
Born in 1938 at Royston, Yorkshire, White might have expected to become a miner like his father Tom – his mother Hilda was also from a mining family – but a series of lucky encounters took him into music.
White once explained to me: 'My father was a violinist. Many miners had hobbies – my maternal uncle was an expert on cage birds – and my father's was music. When he was about 18 he was asked if he was interested in buying a violin and bow for ten shillings. He used to walk five and a half miles for his lessons and within 18 months he belonged to a dance band. Later he had lessons with more experienced teachers and he would often do one and a half hours' practice a day. He played at Royston Working Men's Club where they had a Palm Court trio – he did solos on Sundays (Heykens' Serenade, pieces by Drdla, Massenet's Meditation from Thaïs, Salut d'Amour, Kreisler pieces) and also played on Saturdays. Eventually he studied with A.C. Peckover in Leeds, who taught many of the players in the Yorkshire Symphony Orchestra, and ended up being able to play things like the Mendelssohn Concerto and the Scherzo-Tarantelle. What he earned paid for the family holiday each year.'
White started violin lessons with his father at eight – 'I wanted to play because my father played' – and was soon duetting with another of Tom White's pupils in the under-ten class of a music festival; a slight disaster at the subsequent concert was a valuable lesson. At 11 he went to Royston Secondary Modern School and at 14 began travelling to Leeds every two or three weeks for lessons with Peckover. He loved football and cricket but was so obviously musical that his headmaster, G.H. Fox, encouraged him to try for Huddersfield Technical College, which had a music department. He was interviewed and accepted by Hans Freyhan, who promptly left the college, but was encouraged by Freyhan's successor, W.G. Williams. He had violin lessons from Neville Mortimer and at Huddersfield Music Society began hearing such quartets as the Végh, the Stross and the Konzerthaus. 'I was bowled over by the sound of the viola, the middle voice. Every Thursday evening we had chamber music coaching – Haydn, Mozart, that sort of thing – and something inside me made me feel that I was terribly attracted to the viola.'
Loaned a viola for the summer holidays, he got a tutor from the library and when he returned to Huddersfield Youth Orchestra after the summer, found he had been moved to No. 2 in the viola section for the Tchaikovsky Serenade. He took viola lessons with Daisy Kaye, widow of the Šev?ík pupil Arthur Willie Kaye who had taught Laurance Turner. 'Mrs Kaye was a dedicated teacher. She gave chamber music classes and you worked on a movement for a whole term; everyone had a score and you worked really hard. She encouraged you to look at music in the library and the parts were always very well marked. My first quartet had Warwick Hill as the first violinist and the cellist was Richard Stoker, the composer.' White heard the 78rpm discs of Frederick Riddle playing the Walton Viola Concerto and played the finale of Mozart's Sinfonia concertante with Warwick Hill in a festival at which he first met Watson Forbes, the adjudicator.
Then came national service, which for White meant three years rather than the usual two, because he was in the regimental band of the Coldstream Guards, playing light music for investitures, debutante parties and suchlike. While he was in the Army he began to study with Watson Forbes, who lived in Hendon. The lessons cost three guineas –about his weekly wage. 'I used to go there on Sundays and after the lesson Watson would say: "Are you in a rush or can you stay for lunch?" He and his first wife Mary Hunt encouraged the students to read books, go to art galleries and so on. At my first lesson, Watson said: "What are you going to play?" I played some of Bach's Third Cello Suite, in Watson's own transcription, and he said: "You play everything slightly out of tune." I was horrified – but he showed me how I could listen to myself in a really self-critical way. One of the first works he gave me, to help me develop a fuller tone, was the Dale Romance. He had ideas on vibrato – although his own vibrato was not the outstanding quality of his playing, he had the ability to help students free their vibrato. He also encouraged me to be businesslike and deal with people in a professional manner when writing letters and so on.'
White had thought of going to a college of education after the Army but Forbes suggested the Royal Academy of Music, where he taught. Buoyed up by having a day off Army duties, White competed for the Charles Oldham Scholarship, playing the Dale Romance to a panel chaired by Max Gilbert. He got the scholarship and was able to attend the Academy from 1958 while still in the Army, which he did not leave until 1960. 'I did a lot of chamber music at the Academy, especially in the Dennis Simons Quartet – Rosemary Ellison was the second violinist and Gregory Baron, who had been with me in the Army, was the cellist. In 1961 we toured Germany with the pianist Sven Weber. We were coached by Watson and we played things like the Franck Piano Quintet, the Tippett Second Quartet, the Purcell Chaconne, Mozart, Haydn and Beethoven.' Ellison left, Howard Davis came in as second violin and the four were coached by Sidney Griller, back from the United States. They also had coaching from Lionel Tertis and were asked to give six recitals in the 1962–63 Academy year.
Members of Harlow Music Association attended one of the earliest of those recitals; and the Academy principal, Thomas Armstrong, called the quartet into his office to relay an extraordinary proposal. Harlow, a go-ahead new town in Essex with an imaginative Labour administration, wanted the four young men as resident quartet, living in the town, presenting regular recitals, playing as soloists with the local orchestra, giving concerts in schools, teaching and acting as musical leavening to the community. These plans came about; and White lived in Harlow with his wife Carol for the rest of his life – they had two children, Catherine and Richard.
The Alberni Quartet, as it now was, moved into the new town in 1963. 'The Harlow Festival was then at its height. We commissioned a work from Nicholas Maw and another from Alan Rawsthorne, his Third Quartet – we already knew both his previous works and we gave all three in a Harlow concert with him present. We also recorded all three for Argo, having been coached by the composer, which makes that quite a historic record. At another Harlow recital we did a work by Bliss. We could try out new repertoire in Harlow – we were playing the Shostakovich Eighth Quartet quite soon after it was written.'
Their coach for the Shostakovich was Benjamin Britten. 'We took part in a Cyril Scott concert in the Duke's Hall at the Academy with Peter Pears and Edmund Rubbra. Pears invited us to play at Aldeburgh during the winter; and Britten and Imogen Holst came to hear us. We realised that this concert had been a sort of audition, when Britten asked us to play at the 1965 Aldeburgh Festival. He chose the programme and coached us: it included a group of Purcell Fantasies, When Night Her Purple Veil with Fischer-Dieskau singing, the first performance of Bridge's Rhapsody Trio and the Shostakovich Eighth. That led to our playing Shostakovich's Ninth and Tenth Quartets – the first Western performances. Britten coached us in those and in his own First Quartet.'
Less pleasant wa