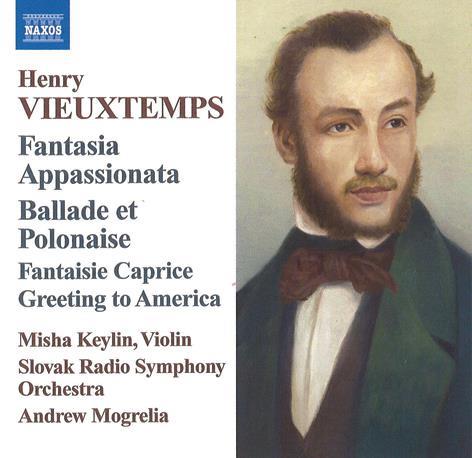 The Strad Issue: January 2011
Musicians: Misha Keylin (violin) Slovak Radio Symphony Orchestra/Andrew Mogrelia
Composer: Vieuxtemps
'My admiration increased to the borders of the improbable,' wrote the 14-year-old Henry Vieuxtemps, having heard Paganini in London in 1834, and that experience did much to shape his own career as player and composer. Yet his music never embraces shallow virtuosity – the excitement of his scores is generated by the performer's agility, a facet the Russian-born American violinist Misha Keylin so effortlessly supplies.
The long, flowing lines Vieuxtemps requires in the Fantasia appassionata is typical of all four scores, each having drama injected to bring a change of mood. Keylin's fast and generous vibrato adds a welcome warmth to the work's slower sections before the scintillating brilliance of his clean-cut left-hand agility brings a joyful closing Saltarella.
The remaining three works share a similar format, with Vieuxtemps retaining interest through likeable thematic material. Keylin's impeccable intonation is highlighted in the double-stopping of the Ballade et Polonaise; the Fantaisie caprice is phrased with mischief as decoration is piled upon decoration; and the disc ends with a romp through some well-known melodies in Greeting to America.
The Slovak orchestra add a well-fleshed accompaniment in a recording of pleasing quality.


DAVID DENTON