The three Tims of the Teyber Trio (cellist Tim Posner, violist Timothy Ridout and violinist Tim Crawford) talk about their genesis as a group, playing Bach's Goldberg Variations, and finding the motivation to rehearse during the time of COVID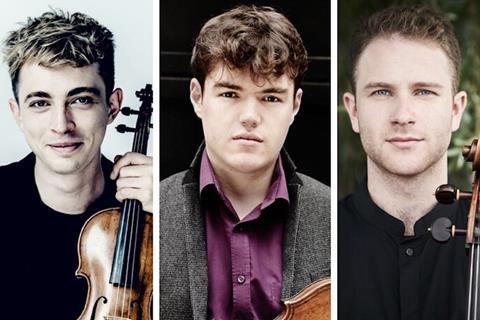 Tim Posner - Genesis as a string trio
In August we were thrilled to make our first recordings together as a string trio. The release of our videos of parts of Bach's Goldberg Variations and Mozart's Divertimento marks a decade of playing together.
We first met 10 years ago at the Junior Department of the Royal Academy of Music and quickly came together for our first trio concert - a performance of Beethoven's Serenade, Op. 8. An instant love for the medium of string trio, a mutual curiosity to explore repertoire and a strong friendship led to weekly extended sight-reading sessions and many concerts.
A couple of years after, we began playing as part of the Celan Quartet with Mathilde Milwidsky, whom we met at the wonderful Musicworks courses. We spent four years together as a quartet and played at many major festivals across Europe.
Since then we have returned to playing as a trio and having had a number of exciting projects and concerts, we can't wait to see what the future holds for us!
Timothy Ridout - Sitkovetsky's Transcription
We had all listened to Bach's Goldberg Variations extensively over different periods of our lives and it was a very special moment when we finally sat down to rehearse Dmitry Sitkovetsky's transcription for the first time.
With the vast majority of the counterpoint in two-three voices, we feel the arrangement works extremely well. It is, of course, conceptually slightly different to the original keyboard work, but we feel the independence and different sonorities of the three instruments really add to it. We spent a lot of time considering a pianist's approach and how that should inform our playing of it, whilst also enjoying what a string trio can offer.
We have made small adjustments to the arrangement itself and over the years, imagine we will continue to tweak it, but we love playing Sitkovetsky's transcription and look forward to the next performance.
Watch: Teyber Trio plays Bach's Goldberg Variations
Tim Crawford - Motivation during the pandemic
I won't attempt to voice a collective opinion on how easily the cultural richness of the U.K. has been flung aside, others have done that far more eloquently and aptly than I ever could. In terms of my own pandemic experience, a lot of the struggle has been centred around the sudden shift in sources of motivation.
I remember back in July, a month by which morale was incredibly low, Alina Ibragimova and Alasdair Beatson released a video performance of Mozart E minor, Debussy and Ravel sonatas for West Cork Chamber Festival. Having worked with both of them before it was no surprise that the two created something magnificent to witness, but more than that it was so glaringly obvious that neither had spent the lockdown months wallowing around in front of Netflix.
More recently, I felt the same about Steven Isserlis and Connie Shih's recent Wigmore recital. For sure, the motivation to record with Tim and Tim during this time was partly spurred by releases such as these, and the artists' indifference towards whether a thousand people are looking up at them, or just a camera lens. Their willingness to further the search for beauty, truth or whatever it is we do while playing is clearly so irrespective of the often-lamented lack of adoring, full concert halls. For them it seems that the music itself is worth a lifetime of devotion. For me, this was a little lifeline thrown through my computer screen at times when the idea of practising or tackling new repertoire seemed objectively pointless. I hope perhaps our little bit of Bach might give another musician out there a slight push to keep going a little longer.