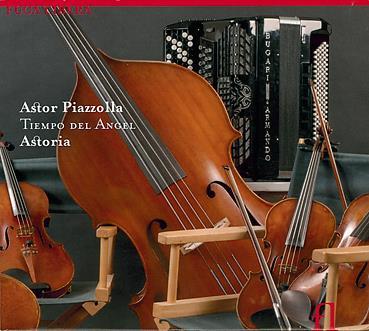 The Strad Issue: January 2006
Musicians: Astoria
Composer: Piazzolla
The tangos of Astor Piazzolla appear in many guises, and the recent moves to establish him within the realms of classical composition have involved many high-profile musicians. Here the Belgian-based group Astoria takes the music back to its birthplace in the dancehalls of Argentina, with unabashed, popular presentation of Piazzolla's smoochy, sexy and intoxicatingly seductive melodies.
The key stylistic ingredients here are the use of the leading accordion of Christophe Delporte, in place of the traditional Argentinean bandoneón, and the importance of Léonardo Anglani's piano. Around their performances the string quintet is often used as a backing group, coming to the fore with Alain Denis's agile and excellent bass playing that flies high on the fingerboard in Contrabajisimo. The strings' combined account of Melody in A minor is gorgeously creamy, with the pulse of the infectious melody manipulated to extract every last drop of sensuality.
Isabelle Chardon's lead violin, very much in the mode of Stéphane Grappelli in those brilliant flights of fantasy, drives the group through a very vivacious and lively Muerte del angel, and tempos throughout the disc are more varied and pliable than we usually encounter in this repertoire. The mix of silky smooth strings and pungent accordion brings the disc to a suitably sensuous conclusion with Invierno porteño.
The somewhat close and dry sound perspective has the atmosphere of a small nightclub and perfectly sets the scene for a highly enjoyable alternative to the pseudo-serious approach to Piazzolla.
DAVID DENTON