The selected violinists will compete for a top prize of CHF15,000 over several live rounds taking place from 22 to 29 August in Sion, Switzerland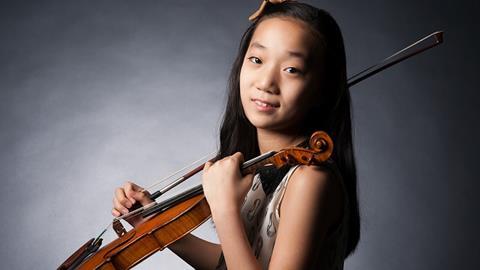 The Tibor Varga International Violin Competition Sion Valais, due to take place from 22 to 29 August in Sion, Switzerland, has named the 28 candidates selected to take part in its live rounds.
Open to international violinists aged under 26, the competition tests performers in recital repertoire and chamber music, and culminates in a final concerto round with the Lausanne Chamber Orchestra conducted by Gábor Takács-Nagy. First prize is CHF15,000 (£11,700) and concert opportunities.
Hailing from 13 countries, the shortlisted candidates feature a number of recognisable names, including Joshua Brown from the US, who has been granted use of a violin by Pietro Guarneri of Mantua on long-term loan from the Stradivari Society; David Castro-Balbi from France, who won five prizes at Louis Spohr Violin Competition in 2013; Elli Choi (pictured) from the US who won the World Monaco Music Masters Competition in 2016; Yoo Na Ha from South Korea, who won the Mirecourt International Violin Competition in 2016; Youjin Lee from Korea, who won the Klein String Competition in 2013; Hannah Tarley, who won third prize at the Elmar Oliveira International Violin Competition earlier this year; and Angela Wee from the US, who won second prize at the 2015 Pablo Sarasate International Violin Competition.
The 28 selected violinists are:
Joshua Brown (USA)
David Castro-Balbi (France)
Angela Sin Ying Chan (Korea)
Stella Chen (USA)
Yevgeny Chepovetsky (Latvia)
Elli Choi (USA)
Hiu Sing Fan (Hong Kong)
Yoo Na Ha (Korea)
Shucong He (China)
Zornitsa Ilarionova (Bulgaria)
Karen Kido (Japan)
Hahnsol Kim (USA)
Sojeong Kim (Korea)
Youjin Lee (Korea)
David Moreau (France)
Naoko Nakajima (USA)
Ririko Noborisaka (Japan)
Kaoru Oe (Japan)
Gang-hyeon Park (Korea)
Arthur Rusanovsky (Netherlands)
Christa-Maria Stangorra (Germany)
Julie Svecena (Czech Republic)
Hannah Tarley (USA)
Alexandra Tirsu (Romania)
Saki Tozawa (Japan)
Natsumi Tsuboi (Japan)
Angela Wee (USA)
Julen Zelaia (Spain)
Sitting on this year's panel are: president Enzo Restagno, Lera Auerbach, Miguel Da Silva, Esther Hoppe, Dong-Suk Kang, Silvia Marcovici and Pavel Vernikov.
Taking place every two years, the Tibor Varga Competition was founded 'to discover new talent, to enrich the musical experience and competence of the participants and to encourage and support prize-winners in their future career'.
For full details visit the competition website.