Isabelle Faust on decoding Mozart's musical language in her new violin sonatas album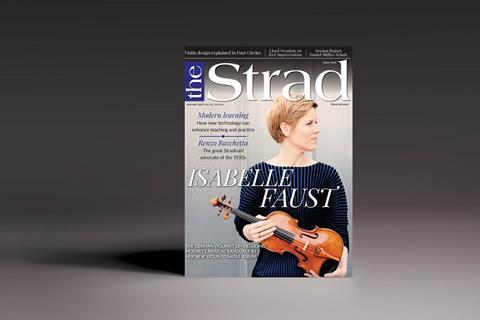 The Strad January 2019 issue is out now in which acclaimed German violinist Isabelle Faust, currently recording a set of Mozart sonatas, tells us about getting to grips with the composer's musical language.
We interview Daniel Müller-Schott about the inspiration behind his latest project, a disc of Russian music that takes him back to his earliest years as a cellist; and Australian double bassist Lloyd Swanton of jazz trio The Necks tells us about free improvisation and making his music accessible to new audiences.
We also take a look at the latest music teaching and learning technology, from apps to accessories; and feature full reports from the Joseph Joachim International Violin Competition in Hanover and the ARD Competition in Munich.
In our regular sections:
In Focus features a violin by Guarneri 'filius Andreae' that also bears the distinctive hand of 'del Gesù'; Gabriela Guadalajara details her method for bending a viola da gamba back in Trade Secrets; My Space looks at the workshop of the husband-and-wife lutherie team of Mira Gruszow and Gideon Baumblatt; and in Making Matters we hear from Steven Sirr and John Waddle on mass, density and CT scans in the second of a two-part focus on 'longitudinal arch structure'.
Our monthly Masterclass is from Lynn Harrell on Beethoven's Cello Sonata no.4; Tracy Silverman shows how to adapt guitar technique for jazz and pop violinists in Technique; Anne-Sophie Mutter tells us her Life Lessons; plus bassist Rick Stotijn on his affection for a little-known work by Joseph Marx in Sentimental Work.
We also bring you news of the latest competitions, products and auctions, and comprehensive reviews of concerts, CDs and books.
Plus, in this month's digital edition:
Listen to clips from Isabelle Faust's latest CD of Mozart sonatas, along with the chance to win the album in our latest competition [weblink here]
View extra photos of this month's In focus instrument, a fascinating Guarneri 'filius Andreae' which bears all the hallmarks of 'del Gesù' as well
More images from the ARD Competition in Munich, including the full jury line-up and photos from backstage
CT scans from Stradivari and Amati cellos, to support this month's Making Matters - an exploration into the design and carving of their front and back plates
A video explaining Kevin Kelly's ingenious 'Four Circles' method of violin design
As ever, clips from the three of recordings which earned this month's 'The Strad Recommends' labels
Plus our 52-page String Courses 2019 supplement
The digital magazine and print edition are on sale now
Do YOU have something to say about the new issue – or about the strings world generally? Send letters to the editor at thestrad@thestrad.com.