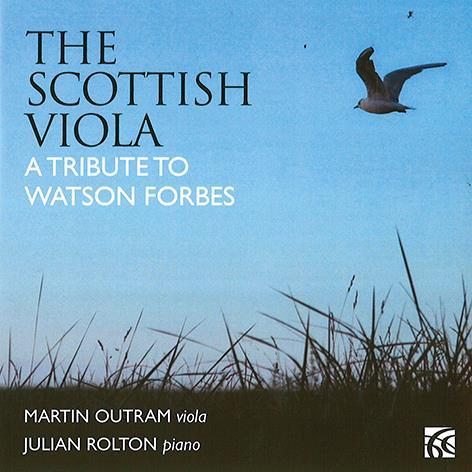 The Strad Issue: January 2012
Description: A worthy testimonial to a great Scottish violist
Musicians: MartinuOutram (viola) Julian Rolton (piano)
Composer: Nardini, Orr, Richardson, S. Forbes, Alwyn, Rameau & Bach
As somebody who appreciates historic continuity, I am very glad to see a Royal Academy of Music professor honouring one of his illustrious predecessors. Having studied with John White, MartinuOutram is a grand-student of the 'other' great Scots viola player, Watson Forbes (1909–97), and so a tradition lives on. Forbes is best known for his numerous transcriptions, and those of Rameau's celebrated Tambourin, Bach's Sinfonia and that 19th-century concoction known as 'Nardini's Concerto' are included here. All bear testimony to Forbes's ability to place a good tune wherever in the viola's register it works best.
Robin Orr's Sonata, William Alwyn's Sonatina no.2 and Alan Richardson's various compositions were all dedicated to Forbes, while St Andrews Solo by Sebastian Forbes (Watson's eldest son) was the set piece in a competition held in the great man's birthplace on his centenary. It is the Scherzetto from Orr's piece, with its faint echo of a Scottish reel, that best lives up to this well-recorded CD's title. Beautifully seconded by his permanent piano partner, Julian Rolton, Outram performs most eloquently: whether in the Baroque transcriptions or in the moderately modern idioms of the original works, he invariably finds the right colours while phrasing subtly and with great beauty of tone. His engaging booklet notes are a further bonus.


Carlos María Solare