In this article from The Strad November 2008 Nick Shave looks at how actors make their string performances look real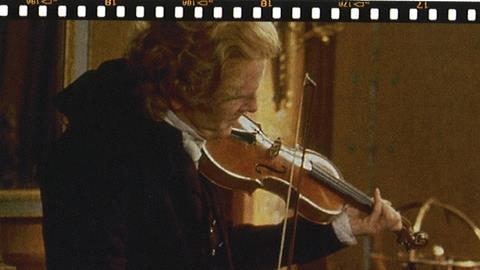 Judging by the musical biopics that have earned Oscar nominations over the years, you might think that Hollywood likes nothing more than to see musicians go through hell. Ever since Diana Ross was nominated for her performance as Billie Holiday in the 1972 drama Lady Sings the Blues, Hollywood has not held back from saying how it likes its musical stars – preferably brilliant, but painfully tormented. Think of Geoffrey Rush as David Helfgott in Shine, or Adrien Brody in The Pianist, or even Joaquin Phoenix's Johnny Cash in Walk the Line, and you'll see a familiar equation emerge: musicality equals suffering.
We might, then, forgive Jamie Foxx for embracing this stereotype in his role as Nathaniel Ayers, a brilliant string player who ends up living on the streets of Los Angeles, in British director Joe Wright's forthcoming biopic The Soloist. But we'll only forgive Foxx if he convinces us that, like the real-life Ayers, he can actually play a stringed instrument – and not just play it, but play it brilliantly. Based on true events, the film tells of how Ayers studied classical bass at the Juilliard School, dropping out at the age of 20 after developing schizophrenia. For 35 years he lived on the streets, busking on the violin, before meeting Steve Lopez, who attempted to help him off skid row while writing a series of articles about him in the Los Angeles Times.
There can be few things more distracting in a musical biopic – especially one that focuses on the burden of genius – than that moment when an on-screen virtuoso reaches for their instrument only to reveal that, contrary to everything we've been led to believe about their character, they are actually musically illiterate. It can take just the smallest detail – perhaps a quirk of posture, a stray finger, or an over-wrought expression – to give the game away. Small wonder, then, that Foxx sought private tuition from Ben Hong, assistant principal cellist at the Los Angeles Philharmonic Orchestra.
With so much at stake in a musical biopic – not least the reputations of the living musicians that the lead actors set out to depict – Foxx is the latest in a list of Hollywood stars who have leant on musical pros to help get their playing up to scratch. Lest we forget, Tinseltown has long attracted the world's finest string players to its studios – Isaac Stern was famously paid $40,000 to ghostfiddle for John Garfield in the 1946 Joan Crawford romance Humoresque, and the same year Yehudi Menuhin ghosted in the Paganini biopic The Magic Bow. But as audiences have become wise to filming techniques, so actors have set out to attain ever-greater levels of authenticity in the musical roles they play. In recent years A-list string students have ranged from Jack Nicholson (The Witches of Eastwick), Meryl Streep (Music of the Heart) and Russell Crowe (Master and Commander: The Far Side of the World) on violin to Susan Sarandon (The Witches of Eastwick) and Keri Russell (August Rush) on cello. But if The Soloist bodes well for Foxx – more than most other A-listers, perhaps – it's because he has the benefit of being a classically trained pianist. That might not prepare him for a good bow technique, but it does at least promise a performance in which he might look as though he feels the music.
For most actors who turn their hands to musical roles, successful playing is less about hitting the right notes, more about appearing to hit them. In Master and Commander Russell Crowe played the role of Jack Aubrey, a brash English naval captain in the Napoleonic wars who carries his violin aboard his ship around the coast of Brazil, through the dangerous storms of Cape Horn, to the far-off Galapagos Islands. To prepare for the scenes in which Aubrey plays violin, Crowe took four months of lessons from director and leader of the Australian Chamber Orchestra, Richard Tognetti. 'Richard first asked me, "Are we faking this or doing it for real?†' recalls Crowe. 'In the movies, it's a combination of the two: you can't do just one or the other. I told him I wanted everybody to watch my fingers and if they were good enough to watch, then that was good enough for me.'
As with any actor who is new to an instrument, Crowe bypassed the business of learning to read notes, playing instead by ear. 'Each day Richard would offer me new little tunes, like Waltzing Matilda, to learn,' he recalls. 'I could play them well enough to recognise the tune – but I found that vibrato or any kind of refined sound quality was impossible to achieve.' Adding to his woes, mastering the rudiments of string playing – posture, hand position and breathing – soon gave Crowe a sore throat. 'At first I thought it was sore because we were having waves and a lot of artificial smoke dumped on us on set, but then I realised it was because whenever I got to play a hard part on the violin, I would stop breathing until I absolutely needed to. So Richard got me to realign my breathing by breathing the notes. He would also get hard candies, like barley sugar, and put a piece between my teeth, so that if I bit through it, it would show that there was far too much tension in my body.'
Many actors have spoken of the torment of learning a musical instrument. If nothing else, it makes for intriguing publicity around a film's release. Following a last-minute role-swap with Michelle Pfeiffer that landed her with the part of a cellist in The Witches of Eastwick, Susan Sarandon could later point to the calluses on her fingers and tell reporters how 'I'd never had to apply myself to something so physically excruciating.' On the other side of the Atlantic, Emmanuelle Béart has spoken of how she nearly fell out with her neighbours during her year long obsession with the violin, when she was taking daily lessons in preparation for her part as a violinist in Un coeur en hiver. 'I would wake up in the middle of the night and go and play,' Béart recalled. 'All these people were begging me to stop, but I had to continue because once I started the part I wanted to be free of everything technical.'
Of course, the early stages of learning a stringed instrument can be the most gruelling. But what makes an actor's off-screen musical suffering intriguing, perhaps, is not the way in which they cope with the blood, sweat and sore throats that result from pressing fingers to string, but rather the outcome of what's real and what's fake in their recitals on screen. While Béart actually learned to play the Ravel pieces used in the film – it's her fingers we see on screen in Un coeur en hiver – we might forgive Sarandon for a less-than-authentic musical performance in The Witches of Eastwick, in which her passion is unleashed in a duet with the devil (Nicholson) that climaxes with the spontaneous combustion of her cello. True, Alan Rickman had cello lessons in preparation for Anthony Minghella's Truly Madly Deeply, but look closely at his Bach recital and you might see that while Richman bows, his left-hand fingering is actually provided b a professional cellist, whose arm is wrapped under the actor's armpit.
Violinist Oliver Lewis taught young German actor Daniel Brühl to mime classical repertoire for Charles Dance's English romance Ladies in Lavender. 'Unless the camera is zoomed in close on the fingers, you can't tell what the fingering is,' Lewis explains. 'The left hand needs to be in the right place on the fingerboard and there needs to be finger movement that you can see, but more than anything else the bow needs to be in synch with the sound.' Brühl had never played a musical instrument before being hired to play the role of Andrea, the gifted violinist that the 'ladies', played by Judi Dench and Maggie Smith, discover washed up on the shores of Cornwall. 'When teaching a beginner violinist there's no deadline to work towards so you have as long as you want,' explains Lewis. 'But with an actor you only have a week or two, so it's a hands-on approach, jumping in at the deep end. If an actor can get the physical gestures, then they will often be able to play these pieces by the end.'
Merchant Ivory's historical music director, David Bahanovich, believes that the best actors possess a visual sense that is ideally suited to mimicking performances on musical instrument. 'Actors have an ability to take cranial snapshots of people playing,' he explains. 'They can mimic everything, from how a musician will take a violin out of its case to the way in which they might strum the strings with their left hand to see whether they're in tune.' So Bahanovich discovered on teaching Nick Nolte (pictured) how to play the violin for his role as Thomas Jefferson in the Merchant Ivory film Jefferson in Paris. Unusually, Bahanovich also taught Nolte's co-star Gwyneth Palstrow the harpsichord: 'Because it all comes down to mimicking, I usually recommend that actors are taught by musicians of the same sex,' he explains. 'You have to ensure that they absorb the right details and posture.'
Set during the build up to the French Revolution, Jefferson in Paris explores the complicated private life of future American president Thomas Jefferson, and along the way reveals his passion for playing violin with the women in this life – namely the flirtatious Maria Cosway, played by Greta Scacchi, and his daughter Patsy, played by Paltrow. In addition to the rudiments of playing an instrument, explains Bahanovich, an actor always has to be aware of the nuances of character and narrative in each scene. When, for example, Nolte plays Corelli's 'La folia' Violin Sonata op.5 no.12 alongside Paltrow, he adopts a supportive, fatherly mode of delivery. 'If he were to play the piece with Greta Scacchi's character then he would play it altogether differently – with more extravagance and allure,' explains Bahanovich.
Clearly, then, there's a lot for Foxx to take in. But if all goes to plan then we can expect The Soloist to do for violin playing what Tous les matins du monde did for the viola da gamba, inspiring a young generation of female players to enrol at their nearest conservatoire. It might even do for Ayers – a violinist who, according to Steve Lopez's original reports, 'doesn't always hit every note' – what Shine did for Helfgott, bringing him out of relative obscurity and placing him precariously under the global media spotlight. And there, like Helfgott, he might momentarily shine, igniting our curiosity like a shooting star, before paling by comparison with his larger-than-life Hollywood image. Perhaps Foxx should fudge it a little after all.
Watch: Russell Crowe plays the violin in Master and Commander
Watch: Arnold Schwarzenegger the violinist
Photo courtesy David Bahanovich