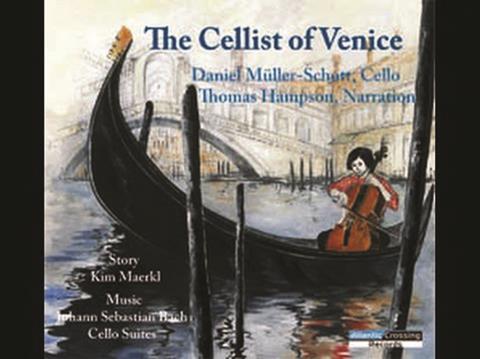 The Strad Issue: December 2016
Description: Stories for children interspersed with fine Bach performances
Musicians: Daniel Müller–Schott (cello) Thomas Hampson (narration)
Composer: Bach, Kim Maerkl
Catalogue number: ATLANTIC CROSSING ACR 0010
Kim Maerkl's tale, set in Venice in 1725, begins at Vivaldi's Ospedale della PietÁ for girls. Gondolas and the sound worlds of the lapping water are the accompanying leitmotifs to the mellifluous tones of Thomas Hampson, who is a charismatic narrator. As the story progresses, movements from the Bach Cello Suites adorn the action, performed with great character by Daniel Müller-Schott. The Minuet from the First and the Bourrées from the Third abound in joie de vivre, and the end of the story has an upbeat Gigue from the Fourth Suite. In a technologically drenched world, it's a mighty struggle to engage youngsters with classical music. So a series of tales, combining stories with extracts of music and performed and narrated by top artists, might well appeal. At 37 minutes in duration, this release is undoubtedly ideal material for night-time stories aimed at luring young children into the world of Bach and the beautiful tones of the cello. Choice phrases such as 'she practised the cello for hours' will surely gladden the hearts of both parents and teachers. Yet, for the child who loves fairy tales, this story lacks a certain degree of fantasy, and those who prefer more dramatic adventures might find it routine and rather sad, especially as in one episode the young cellist's parents die from illness. And yet we must try everything to enrich children's lives with music, and the performances are certainly persuasive.
Joanne Talbot