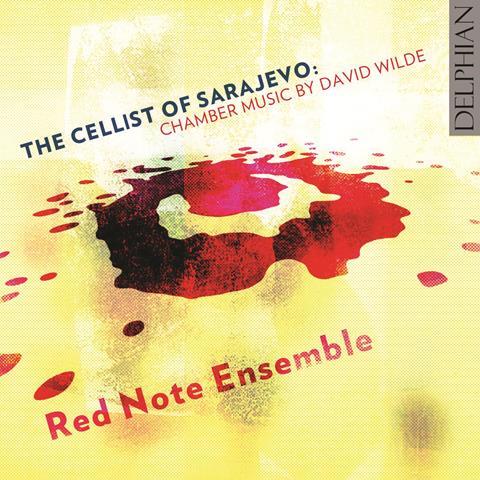 THE STRAD RECOMMENDS
The Strad Issue: February 2017
Description: A veteran composer's searing response to the plight of the war-torn Balkans
Musicians: Red Note Ensemble
Composer: Wilde
Catalogue number: DELPHIAN DCD 34179 (2 CDs)
This is music to memorialise, to bear witness and to remind us of our complicity. The pianist and composer David Wilde was so moved by the plight of the Bosnian people in the 1990s Balkan conflicts that he moved to Sarajevo to offer whatever help he could. One result was his Suite 'Cry, Bosnia-Herzegovina' for violin and piano, whose searingly violent, furious, desolate music is so raw in its directness that it seems not even to obey conventional rules. Its lyrical, consoling closing movement, 'The Cellist of Sarajevo', was inspired by the actions of Vedran Smailović, cellist of the Sarajevo Quartet, who played for 22 days in succession at the same Sarajevo bakery to mourn the 22 people killed there in a Serbian mortar attack.
Wilde has long been resident in Scotland, and Scottish contemporary music specialists the Red Note Ensemble are entirely at one with this sometimes screamingly emotive music, in accounts bristling with conviction and drama, but which also show admirable restraint. Violinist Jacqueline Shave sounds like an actor giving a soliloquy in the suite, alive to the fine nuances of Wilde's long lines, and when cellist Robert Irvine takes over for the closing movement, he shapes every note with careful intent in a noble, highly moving account.
The rest of the two-disc set features music not directly related to Wilde's time in Bosnia, but it's equally finely crafted and expressive. The Red Note players aren't a permanent string quartet but they perform often together, and it shows in Wilde's expansive First String Quartet, in their fleet responsiveness to each other's gestures and in their easy sense of flow. Pianist Simon Smith particularly stands out in the 1988 Piano Trio with his sensitive, sharply etched playing, beautifully matched in the bright, characterful accounts from Shave and Irvine. Recorded sound is close, generous and natural.
David Kettle