String players shouldn't put up with badly written, out-of-date biographies put together by agents, argues Helen Michetschläger. Do it yourself and reap the rewards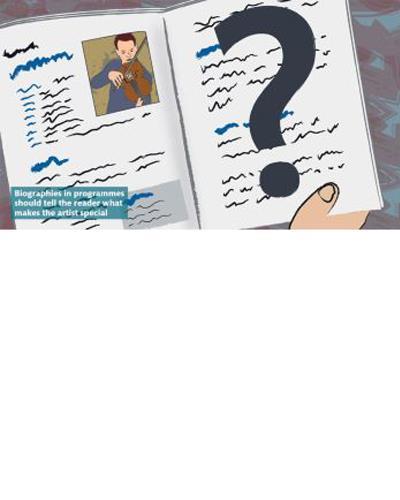 Musicians often complain that their work is not valued. There are concerns that audiences are getting older, particularly in areas such as chamber music. Press coverage of classical music has dwindled over the years. I'd like to argue that part of the reason for this lies in the hands of musicians and their agents.
I am a violin maker by profession, but in my spare time I help with the administration of one of the many music societies that promote chamber concerts in the UK. One of the obstacles that impede this work is the miserable biographies that many agents send as publicity material for their clients. These can be dreary in the extreme – lists of teachers studied with, competitions won, countries performed in, concert halls played in, festival appearances, orchestras performed with, recordings made, new pieces commissioned. These biographies are often written with dubious syntax and are sometimes poorly translated from a foreign language. The lists are usually prefaced by some hyperbole about the musicians' qualities and riddled with clichés such as 'award-winning' and 'critically acclaimed'.
Not only does this make for uninspiring reading, but these biographies are often not properly updated. From one year to the next it's common practice just to add more to the lists. The sentences become longer and more unintelligible, often including clauses that fit incoherently with what went before. Printed biographies may be updated annually, but has the artist's website been revised accordingly? I recently checked the website of an ensemble whose emailed biography had a different line-up of musicians from its home page. All marketing material needs to be properly revised on a regular basis, with older and less relevant material deleted as newer information is added.
The use that promoters make of these biographies is twofold. First, we draw on them for the marketing material that is compiled to publicise the concerts. It can be hard to sell a concert, even when you know that the musicians are wonderful, when they have given you nothing that really indicates why they are special, or where their particular areas of expertise lie. Secondly, these biographies appear in the concert programmes. A good programme prepares the audience for what they are about to hear. If it contains interesting material and is relevant to the concert, it will be read more closely.
I always ask specifically for details of the instruments that string players use, as it is by no means routinely supplied, and I always add this information to our programmes' biographies. Sometimes with a young ensemble I have been told that the musicians are not prepared to give out this information because they don't use valuable instruments – but surely it's still interesting for the audience to see if they can tell the difference. Even audience members who are not string players are interested to know how old (or new) the instruments they are listening to are, and where they come from.
We have moved on from the era when agents kept a stack of ready-printed biographies that they then sent out to promoters. Everything is now done digitally but the opportunities this change offers have not been exploited. Agents could provide more targeted material. If the concert is in the UK, it's superfluous to be told that Wigmore Hall is in London, but readers might need to refer to their atlases to find the location of the Yerevan International Music Festival. If the musicians have played in a given town before, but perhaps at a different venue, include information about previous appearances – it can really help marketing to remind ticket-buyers that they have already enjoyed a performance by a musician in a different setting. And if this concert tour contains a work that the players have just recorded, include information about its release – if the concert is a success, people will ask when the CD will be available.
Musicians might add some details about what makes them and their concerts special. What are the reasons behind the programme choices? Do they have specific aims such as a desire to explore a specific area of repertoire? Were there interesting circumstances in the way the players met, or is there a special story about the ensemble's name?
A number of groups are now gaining recognition by holding their own festivals and recording under their own labels. Let's see this free-spirited approach applied to their biographies too.