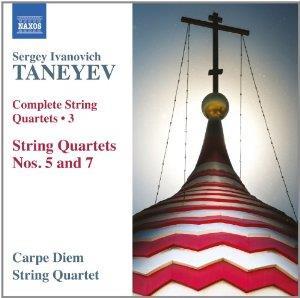 The Strad Issue: January 2014
Description: A rewarding continuation of a survey of the Russian composer's quartets
Musicians: Carpe Diem Quartet
Composer: Taneyev

It is a couple of years since I reviewed the Carpe Diem Quartet's last release in its distinguished ongoing Taneyev series for Naxos (see The Strad, June 2011), and here they once again triumph over a slightly dry acoustic with readings that marry the composer's cantabile espressivo and tendency towards Beethovenian cross-referencing to memorable effect.
This is particularly evident in the early 'no.7', actually written in 1880 before the main canon, which takes the German master's op.127 as a springboard for its gestural and textural sound world, even if the buoyant finale has a Dvor?ák-like skip in its tail. The Fifth, composed 23 years later, is both more personal in tone and structurally more assured, even if (as in the Boccherini-like second theme) Taneyev still has a tendency to break suddenly into echoes of rococo elegance and even, on occasion, Bachian counterpoint.
The Carpe Diem players perform this music with the same devoted intensity as if they were rediscovering a lost work by Tchaikovsky, whose Souvenir de Florence is unmistakably 'lifted' at one point in the opening movement of no.5. With its restless shifting of stylistic focus this is music that is by no means easy to keep on interpretative track, yet the players here communicate such delight in the Russian's quirky inspiration that the ear is led effortlessly on. Well worth investigating.



JULIAN HAYLOCK