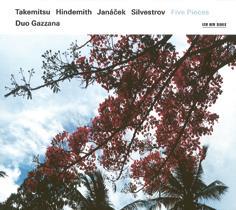 The Strad Issue: January 2011
Description: A mismatched duo makes for disappointing performances of 20th-century repertoire
Musicians: Natascia Gazzana (violin) Raffaella Gazzana (piano)
Composer: Takemitsu, Hindemith, Janácek, Silvestrov
If this disc is anything to go by, the two-sister duo of Natascia and Raffaella Gazzana make quite a strange pairing. Natascia's violin playing is fresh, precise and rather subdued, but her tone is seldom full or rich – thin, or even sometimes piercing, would be a more accurate description. Raffaella, on the other hand, is forthright on the piano, and generous with her pedalling – often overly so.
The result is perplexing. In the Hindemith Sonata, for example, the violin is sometimes simply drowned by the thick, busy piano part, but even when it shines through, the brittle clarity of Natascia's playing seems entirely at odds with the dense wall of sound generated by her sister. Natascia's reading of the Janá?ek Sonata is controlled and held firmly in check, but pianist Raffaella seems happy to let rip. Neither of them make much of the work's abrupt changes of texture, though, and there's little sense of growth in the musical paragraphs.
More successful, however, are the Takemitsu and Silvestrov. Natascia delivers the heavily Messiaen-influenced Distance de fée with a beguiling freshness, as if discovering the music for the first time with a wide-eyed wonder, and they give poignant readings of the simple, subdued, slow music of Silvestrov's Five Pieces – undoubtedly helped by the fact that the two instrumental parts are kept so clearly separate. Recorded sound favours the piano, only adding to the unavoidable sense of imbalance.


David Kettle