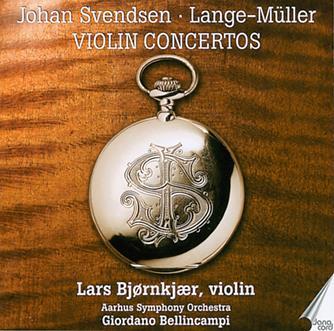 The Strad Issue: January 2008
Musicians: Lars Bjørnkjær (violin) Aarhus Symphony Orchestra, Giordano Bellincampi (conductor)
Composer: Svendsen, Lange-Müller
Not only do we have Johan Svendsen to thank for insisting that the small publishing firm of Fritsch (who had already declared it 'not very interesting') take on Grieg's Piano Concerto, thereby launching the latter's international career, but also generations of violinists have delighted in Svendsen's op.26 Romance, played here by former Dorothy DeLay pupil Lars Bjørnkjær with intensity and a glorious singing tone. The early Violin Concerto, Svendsen's op.6 dating from 1870, has fared less well, yet it is gracefully written (Svendsen was an expert violinist), with several passages of rapt lyrical intensity along the way (admirers of the Bruch and Conus concertos should find it particularly congenial). Svendsen's concerto responds especially well to Bjørnkjær's silvery, relatively lightweight sound and highly eloquent phrasing – this violinist's devoted vehemence almost convinces us that it is a lost masterpiece. The recording is a touch thin on top, but Bjørnkjær's moving sincerity and enchanting cantabile provide more than adequate compensation.
There is an interesting connection between Bjørnkjær and the Lange-Müller concerto, as it was one of Bjørnkjær's predecessors as leader of the Royal Danish Orchestra, Axel Gade (son of the composer Niels), who gave the 1904 premiere. Lange-Müller may not possess the independence of creative voice of the great Carl Nielsen – even Bjørnkjær's seamless tone and enraptured sensitivity can't quite disguise the fact that Lange-Müller (52 at the time of composing) tends to fall back on generic Romantic devices more readily than the young Svendsen. However, those who revel in the backwaters of high Romanticism should still find this utterly captivating.
JULIAN HAYLOCK