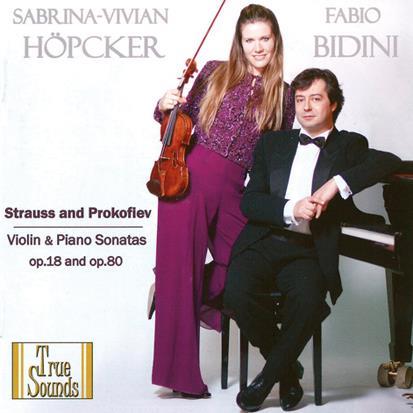 The Strad Issue: January 2009
Musicians: Sabrina-Vivian Höpcker (violin) Fabio Bidini (piano)
Composer: Strauss, Prokofiev
Sabrina-Vivian Höpcker impresses in this debut CD, with captivating readings of sonatas by Strauss and Prokofiev, and she is given impeccable support by pianist Fabio Bidini. Strauss's beautiful but fiendish Sonata op.18 shimmers with brilliance, the players' sensitivity to the ebb and flow of the music making this reading magical. They cannot quite match the intensity of Vadim Repin's recording of the work for Erato with Boris Berezovsky, but it's still a fine effort. Höpcker's supreme control of the delicate phrases in the deeply felt Andante cantabile is highlighted by the transparency of texture from Bidini, and the wilful power unleashed in the Finale is gripping.
Prokofiev's F minor Sonata is equally lovely: Höpcker give an effortlessly beautiful reading of the intricately double-stopped chorale theme in the haunting Andante assai, and both players share in a deliciously quiet stillness at the end of the movement, where the violin's whispering runs are underpinned by piano chords. The Allegro brusco is bold yet searching, and the Andante achieves just the right air of yearning wistfulness. The final Allegrissimo is vividly expressive.
My only complaint is that the translation of the booklet notes leaves something to be desired – they appear to have been prepared by someone who can't quite get to grips with the material they're translating, with inexplicable talk of 'corner movements' and 'a powerful ascension theme' in the Strauss Sonata. Luckily far more care has been taken over the recorded sound, which is spacious and lifelike.
Catherine Nelson