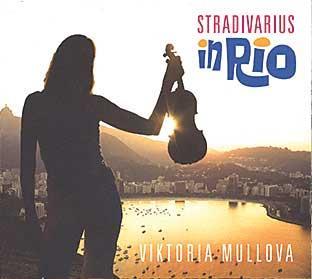 The Strad Issue: January 2014
Description: A topical, crossover release from an ever-adventurous violinist and cellist
Musicians: Viktoria Mullova (violin) Matthew Barley (cello) Paul Clarvis, Luis Guello (percussion) Carioca Freitas (guitar)
Composer: Nucci, Vogeler, Costa, Monte, Veloso, Azevedo, Jobim, Baptista, De Abreu, Pixinguinha
Could it be that Viktoria Mullova's idea of bringing together 13 popular Brazilian songs was influenced by a release date that would coincide with the football World Cup? As a crossover release it is well-nigh ideal, with Mullova recalling those days when Stéphane Grappelli was the jazz violinist many tried to emulate, and so few succeeded. She certainly uses her fast left-hand fingers to convey improvised flights of fantasy in the way he rather made his trademark. Sliding around the fingerboard, then becoming smoochy at the appropriate moments, she makes her 1723 'Jules Falk' Stradivari sing gorgeously in moments of relaxed eloquence, and also sound aptly sad and sultry when required.
Such popular numbers as 'Dindi', 'Tico Tico' and 'Toada' have been arranged by the guitarist Carioca Freitas, whose style of playing is the real key to the success of the disc. Cellist Matthew Barley has a few heartfelt solo moments, but he mainly occupies a soft-grained role in a backing group whose percussion duo uses a variety of instruments to provide both the colour and rhythms of South America.
Mullova is placed well to the front in a suitably pleasing atmosphere that is redolent of a small nightclub.


David Denton