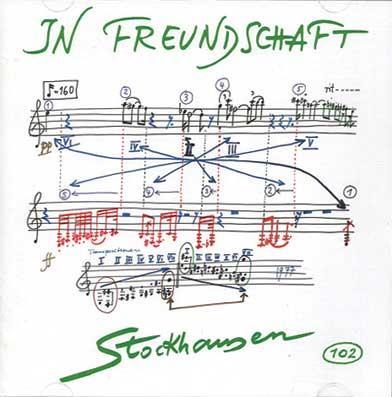 The Strad Issue: November 2014
Description: Five performances of the same piece by different players bring their own rewards
Musicians: Raul Lustgarten (violin) Anna Tkatchouk (viola) Friedrich Gauwerky (cello) Petra Stump (bass clarinet) Hans Nickel (tuba)
Composer: Stockhausen
Catalogue Number: Stockhausen Verlag 102
Stockhausen wrote the 15-minute solo In Friendship in 1976, and adapted it over the years at the request of many musicians, eventually making a version for almost every standard orchestral instrument. The challenge for the performer is to articulate the structure of a seven-times-repeating formula with its teasing deviations while maintaining the personalities of two distinct melodic layers – one high and quiet, the other low and loud. This is aimed at communicating the 'friendship' of those identities, moving chromatically towards each other with each repetition of the formula, 'exchanging limbs and uniting to form a continuous melody in the same register' in Stockhausen's words.
Long experience and personal relationship with the composer afford cellist Friedrich Gauwerky an easy familiarity with this music, and it shows in a nuanced and charming performance. Violinist Raul Lustgarten and violist Anna Tkatchouk have to work harder, bringing greater bow pressure to bear on the hectic elaborations of the later episodes, though they each project a full personality, Lustgarten the extrovert dancing-master, Tkatchouk the reserved lyric poet. Placing them side by side, in company with versions for bass clarinet and for tuba, does the work of Stockhausen's accompanying essay 'The Art, to Listen'. Recommended to both curious sceptics and converted enthusiasts.





Peter Quantrill