The British cellist was due to fly from London Heathrow for concerts in Denmark, but was told that his cello's seat, which he had booked and paid for well in advance, had been cancelled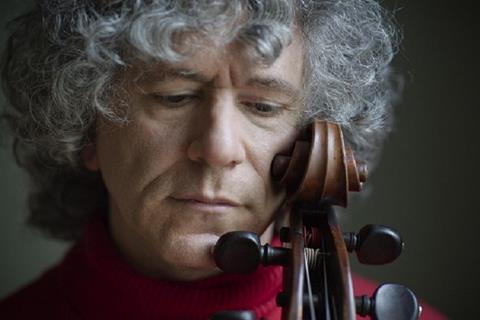 Steven Isserlis has published a lively account on his Facebook page and Twitter account of his aborted attempt to fly from London to Amsterdam on KLM airlines yesterday.
The British cellist, who had just been awarded the Cobbett Medal for services to chamber music at the Musicians' Company in London, was hoping to fly from Heathrow to Amsterdam and from there to Billund for rehearsals and performances at Hindsgavl Castle and Tivoli Concert Hall in Denmark. He had booked a seat for his cello through his American Express (Amex) travel agent in May this year, but upon arriving at the check-in desk was told that there was no record of his cello seat booking on the system.
He writes: 'There was a lot of traffic; but nevertheless I arrived around two hours before my KLM departure to Amsterdam, from where I was to connect to a flight to Billund, in Denmark. I approached the check-in agent, who looked at me without love…I informed him immediately – as one has to do – that I had purchased a second seat for my cello; he merely shrugged and went on with what he was doing. Then he looked sharply at me. "Have you paid for the cello seat?" I assured him that I had, and offered to show him the letter on my computer which my brilliant travel agent, Merlin (really!) at American Express, always provides in case of trouble, explaining how the cello seat has been booked. He looked at it without great interest and handed it back; then he looked at his own computer screen. "There's no cello ticket," he said. "I have to call the ticket desk." I was beginning to fume – and the clock was ticking. The agent spoke on the phone, then hung up and looked at me. "The cello ticket's been cancelled," he said.'
Isserlis was then told that he would have to speak to his travel agent, Amex, and eventually called by 'somebody knowledgeable-sounding' who asked to speak to the check-in agent. The KLM agent, however, refused to speak to Amex direct, forcing Isserlis to relay everything that was said over the phone.
Isserlis continues: '[The Amex lady] insisted that she had talked to KLM, that the cello had been booked correctly, and that if [the check-in agent] reloaded his screen, all would be well. He did so. "Nothing's changed," he announced. "It's still cancelled."'
Isserlis was then passed to another another check-in employee – the first insisting , 'I'm trying to help you, and you're complaining. I'm through with you – you can go to my colleague.' However, this second man repeated there was nothing that could be done and suggested Isserlis go to the tricket desk. At this point there were just 45 minutes until the flight was due to leave.
Despite flurried efforts at the ticket desk, there was nothing that could be done in the time and the flight closed without Isserlis on board. His Amex booking agent was, however, able to secure a full refund for the flight, as she had managed to ascertain that KLM 'were looking at the wrong ticket number'.
In the mean time Isserlis discovered another flight to Copenhagen was leaving from a different Heathrow terminal in two hours' time. Despite being more expensive, this would at least provide him with the opportunity to attend the next morning's rehearsal. Following a £22 taxi ride between terminals the complications again began in attempting to book the cello's seat at the new ticket counter.
'I explained what was needed, and a sympathetic lady at the counter set to work,' explains Isserlis. 'The overworked ticket-lady and her colleague disappeared into a back room, occasionally emerging to ask for details of the cello dimensions, my email address, and so on. The minutes were ticking by…'
After another false start, during which Isserlis and his cello were issued with tickets in separate areas of the plane, the correct tickets were finally produced and Isserlis was issued with boarding passes with minutes to spare.
'It was not the best day of my life,' he said.
Photo: Jean Baptiste Millot