The musician, who maintains his innocence, was charged by New York police with strangulation and burglary earlier this year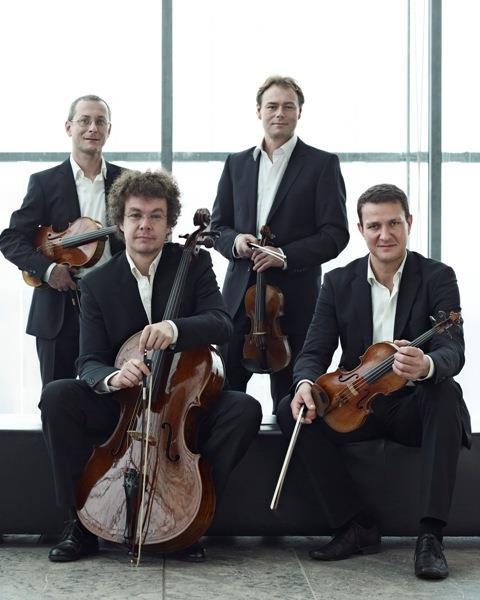 Stefan Arzberger (pictured, far right) has stepped down as leader of the Leipzig Quartet, following his arrest by New York police in March this year. The ensemble announced the decision on its website and Facebook page, blaming a lengthy US judicial process with no end in sight.
The violinist, whose $100,000 bail conditions mean he cannot leave New York, is accused of launching a naked attack on a 64-year-old woman – a fellow hotel guest at the Hudson Hotel. He has been charged with strangulation and burglary. However the Quartet maintains that Arzberger was unknowingly drugged while drinking at the hotel bar, robbed of his credit cards and personal belongings, and has no memory of the five-hour period leading to his arrest.
Up to this point the Quartet has fulfilled its concert obligations with stand-in players.
The statement reads:
'The prosecution of the case filed against Stefan Arzberger, first violinist of the Leipzig Quartet, continues to progress slowly. A timeline for a resolution of the process that began in the Manhattan Superior Court in April of 2015 is impossible to predict. His return to Germany by the Spring of 2016 is therefore very uncertain. For this reason, Stefan Arzberger withdraws as a member and stakeholder of the Leipzig String Quartet, enabling his colleagues to plan ahead and secure their futures and careers. Stefan Arzberger regrets that he is forced to make this difficult decision and looks forward to a speedy conclusion of the trial in New York so that he can both clear his name and continue his personal creative development.
The Leipzig String Quartet will assume all of its future engagements and tasks with a modified line-up and remains committed to maintaining the high quality of the ensemble.
We would like to thank all of our partners, event organizers and hosts, as well as our friends for their help and support during these difficult times and look forward with hope to a positive resolution to Stefan's ongoing and uncertain case in the United States.'