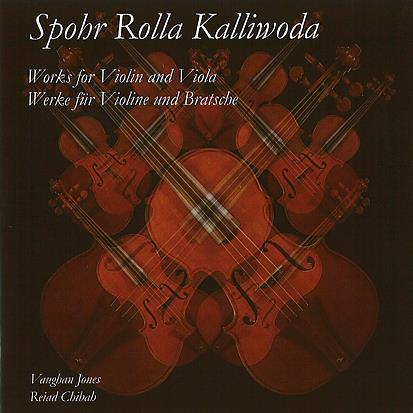 The Strad Issue: January 2009
Musicians: Vaughan Jones (violin) Reiad Chibah (viola)
Composer: Spohr, Rolla, Kalliwoda
The violin–viola duet repertoire rarely provides the most marketable listening fare, but Vaughan Jones and Reiad Chibah perform these well-crafted, challenging works with commendable accuracy and ensemble, as well as in an appropriately conversational manner. The end musical product, however, is often a shade too cool and cautious to convince fully.
These players' account of Spohr's Duo op.13, for example, seems too metronomic, calculated and 'buttoned-up' for optimum effect, lacking the vitality, flair and spontaneity of the version recorded by Tabea Zimmermann and Antje Weithaas (Capriccio). They periodically burst into life with some impressive passagework in the finale, but their readings of the other two movements require greater flexibility and sense of purpose to win my vote.
Rolla's Duo concertant fares better overall, although caution still tends to be the rule in the solemn slow introduction and ensuing Allegro. The central Adagio has some lyrical moments to savour, and there are passages in the final rondo where Jones and Chibah emerge from their shells to master challenging stratospheric passagework, even introducing some impressively controlled flying staccato.
They are at their most engaging in Kalliwoda's Duet, even though much of their playing is still 'by the book'. One begs more fantasy and contrast in the first and second movements, even if the Scherzo, a very steady prestissimo, is well characterised and the Allegro risvegliato finale is a true wake-up call, sporting the kind of flamboyance that would be welcomed elsewhere. The recording provides all the requisite intimacy of ambience.
ROBIN STOWELL