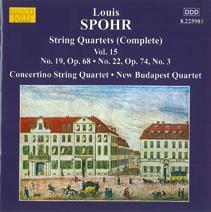 The Strad Issue: January 2012
Description: Recordings that fail to get to grips with the composer's aesthetic
Musicians: Moscow Philharmonic Concertino Quartet*, New Budapest Quartet†
Composer: Spohr
Louis Spohr was an extraordinary violinist with firmly held aesthetic views, of which we know much from his Violinschüle of 1833. Thus it is a pity that this recording chooses to disregard such evidence. Modern playing with its ubiquitous vibrato, avoidance of portamento and bounced staccatos misrepresents Spohr's music and it often sounds weak as a result. The 19th Quartet, a 'quatuor brillant', fares better here in the hands of the Moscow Philharmonic Concertino Quartet, with some lovely tonal warmth in the opening movement and a beautiful Larghetto, pleasingly recorded.
The 22nd Quartet has more equal interplay and is crafted to a high standard, but it still sounds long-winded (especially the first movement) and the often wobbly vibrato of the New Budapest Quartet is yet further away from a truly Spohrian sonority – a matter magnified by an over-reverberant recording. The scherzo, however, is particularly exciting and there is some effervescent playing in the finale.
In spite of these reservations, Naxos is to be thanked for producing an interesting disc. The premiere recording of the 19th has an obvious place in the discography but remains distractingly faulty, with the Moscow ensemble's first violinist Jaroslav Krasnikov frequently failing to manage Spohr's virtuosity with sufficient accuracy.



David Milsom