The initiative, which aims to 'transform lives through the power of diversity in the arts', was honoured by US First Lady Michelle Obama in the White House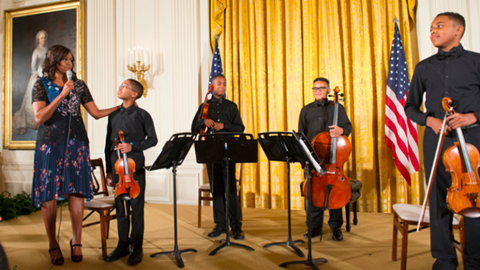 Sphinx received a National Arts and Humanities Youth Program Award at the White House in Washington D.C. yesterday.
The organisation's Overture programme - which delivers access to free group violin lessons in public schools in Detroit and Flint, Michigan - was one of 12 initiatives nationally to receive the award from US First Lady Michelle Obama and the President's Committee on the Arts and Humanities.
A Sphinx quartet was chosen to close the ceremony with a performance to which the First Lady responded 'drop the mic!' and described as 'phenomenal'.
'This is why we do what we do,' she said. 'There are millions of kids like this in this country, who do not have the resources to become everything that they could be...Fortunately, these programs are doing the job that sometimes the bigger society fails to do.'
Read: Cellist Thomas Mesa wins 2016 Sphinx Competition $50,000 first prize
Watch the quartet's performance and Michelle Obama's reaction below: