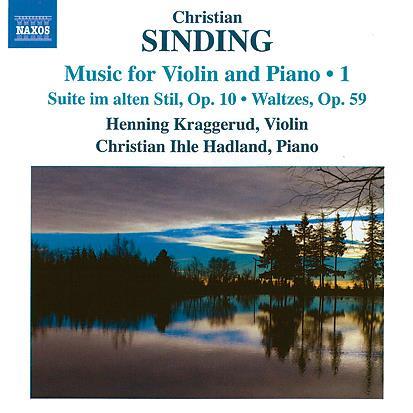 The Strad Issue: January 2009
Musicians: Henning Kraggerud (violin), Christian Ihle Hadland (piano)
Composer: Sinding
In his Norwegian homeland, Christian Sinding (1856–1941) is a major figure whose latest symphonies, operas, concertos and chamber works were once awaited with eager anticipation. Yet for many years the only piece by which he was widely known was the piano miniature The Rustle of Spring, although violin fans have always had a soft spot for the Suite in Olden Style. Sinding was in fact a violinist by training and went on to compose three concertos for the instrument and a whole series of works for violin and piano, of which this fine recital from Henning Kraggerud forms the first volume.
In the opening Presto of the original version of the Suite (the orchestration followed later), Henning Kraggerud is not quite as scintillatingly fast as Heifetz (RCA) and Perlman (EMI), yet he uncovers in the central Adagio a moving poetic introspection that his esteemed colleagues tend to underplay. Indeed, it is Kraggerud's chamber-scale sensitivity at all dynamic levels that is a special feature here, enhanced by sympathetic support from Christian Ihle Hadland and typically luminous sound from engineer Arne Akselberg. On paper, such delicate miniatures as the D major Romance op.79 no.2 and Berceuse from op.106 may appear generically unremarkable, but heard via Kraggerud's micro-shaded, velvety tone colours and gentle interpretative whimsy, they sound utterly enchanting.
JULIAN HAYLOCK