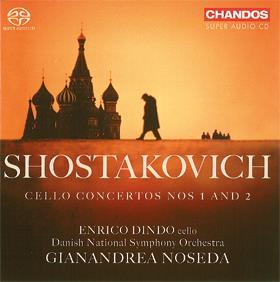 The Strad Issue: January 2006
Musicians: Isabelle van Keulen (violin/viola) Ronald Brautigam (piano)
Composer: Shostakovich
This is a different view of the Violin Sonata from the 1969 Melodiya recording by David Oistrakh and Sviatoslav Richter made one year after their premiere performance of the score. Seeking more subtle hues, Isabelle van Keulen brings a heightened sadness and sense of inner fear to the opening Andante, with the violin weaving its thoughts around Ronald Brautigam's cold piano response. Where Oistrakh's sense of enormous power awaiting to erupt colours the central movement, here we have a twitchy nervous energy, with two voices often going their own way and seldom coming together. Richter, you feel, is driving the music remorselessly forward, taking the proactive violin writing along with him, while his solo outburst in the finale has greater intensity than Brautigam's. There is an oddity here in the new recording where the piano's sound perspective suddenly changes. Present-day performances have added despondency to the closing Largo, but van Keulen probably comes closer to the composer's original thoughts with her dramatic statement.
The Viola Sonata, Shostakovich's last completed composition, has not shared the popularity of the violin work, though in essence it occupies similar ground in the opening movement. In general the score offers the viola a greater degree of virtuosity in which van Keulen is suitably brilliant. In the long passages of lyricism her tone is warmly expressive, with the sombre moods precisely gauged, while the closing pages have both resignation and sadness. In total a recommendable account.
Apart from the already noted peculiarity in the Violin Sonata, the sound is pleasant and well balanced.
DAVID DENTON